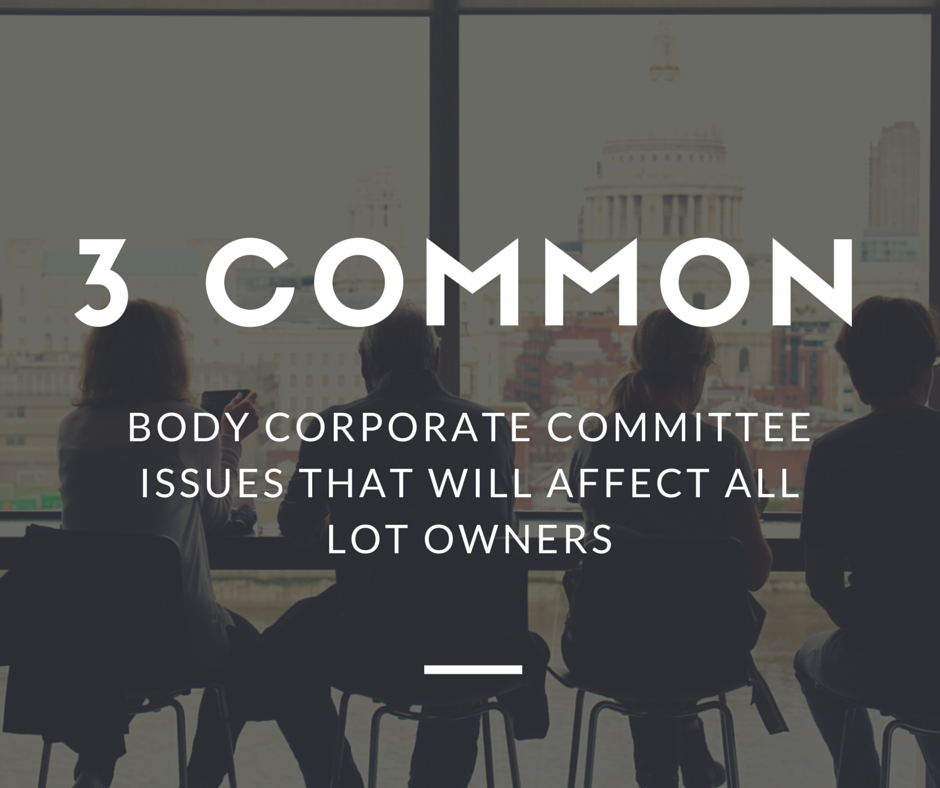 It's a common myth that the body corporate manager is in charge of a body corporate, so much so that it often comes as a surprise for those new to strata schemes that it's actually a Committee who have the power and responsibility; well the Committee along with all the lot owners.
One of the offshoots of that belief is the idea that the scheme is being professionally managed. But that is not the case at all. Committee's are made up of lay people who do the best they can with the knowledge and resources they have.
And for the most part they do a good job. After all no one has as much invested as the lot owners.
There are a few common issues that come up though that may hamstring management and eventually impact all the lot owners. This article is a discussion of those problems.
1. There is no Body Corporate Committee
It's common to have a Committee that's made up of only two or three people. It's even reasonably common to see one person shouldering all the responsibility, but it's very rare to see a scheme where absolutely no one will act as Committee.
It's rare because having no Committee is a nightmare for body corporate managers. Consequently they usually make plenty of effort to convince some lot owner, any lot owner, to get involved.
Imagine running a business where there is no one to report to, no one to get instruction from and you actually have no power to make any decisions. But yeah, go ahead and keep the business going, deal with any problems and answer any questions. Sounds like a nightmare to me.
A body corporate can actually appoint a body corporate manager to be their Committee, but again it's not something that happens very often.
That's because, if there is no Committee is usually because no one has bothered to nominate, no one turned up for the AGM and in some cases no one even bothered to vote. If no one votes a Committee won't be elected and neither will the manager be appointed to act.
This problem actually has much greater implications for lot owners than the frustration of the Manager.
If no one votes levy cannot be issued, and if no levies are issued no funds will accumulate.
That results in no works getting done.
It doesn't take long for buildings to start to decay, particularly buildings with common areas that no person is specifically responsible for.
First the scheme will becomes dirty. The dirtier it gets the less care residents will take and if no repairs are undertaken the building quickly becomes run down. Eventually, if no one does anything the building may become derelict.
And yes, this cycle really does happen.
As the common property deteriorates the value of the lots becomes less and less. Even at a cheaper price the lots will become very difficult to sell. Not many people are prepared to take on someone else's mess.
What to do if no lot owner wants to be on the Committee?
Turning a blind eye and ignoring things is not a good way to sustain your investment.
If you can offer even some time then volunteer for the Committee.
If the scheme genuinely cannot find anyone to be on the Committee then appoint a body corporate manager. It will involve a general meeting motion (where owners will need to vote) a separate agreement and a substantial increase in costs.
It can be very expensive to recover from an extended period of neglect. The best way to combat is not to let it happen in the first place.
2. The Body Corporate Committee are pursuing their own agenda
It's important to remember that body corporates are closed systems, meaning they may do whatever they choose to do so long as it's consistent with legislation and case law and isn't illegal.
And the Committee is in charge of this system.
Their role is to enact the motions the combined lot owners have resolved.
Any lot owner can propose a motion and, if the motion is supported with the correct documentation, has a good chance of getting that motion passed.
Despite that, in most cases the Committee is driving what does or doesn't get done around the scheme and that's largely because they're the people who're being briefed on everything.
That is their purpose, to be the "brain" of the scheme, the people who're collectively seeing and hearing all, the decision makers.
In some cases though those decisions may not be in the best interests of all the lot owners, or even the majority of lot owners.
For instance, the Committee may be more invested in keeping levies low than undertaking needed repairs and upgrades.
Or conversely, endlessly upgrading and driving levies higher and higher.
And there are many, many cases where works have been prioritised to suit a Committee member rather than necessity.
These are simple examples of things that happen often but the only limitations on this stuff is the willingness of any Committee to push the envelope.
What to do if the Committee is pursuing its own agenda?
The only policing provided for body corporates is that provided by the lot owners themselves.
So police already.
Read the Committee meeting minutes. Make written complaints about repair and maintenance issues and look for that correspondence to be discussed in the minutes. Talk to the Committee and / or the Manager if you have questions.
Vote on motions at general meetings yourself rather than appointing a proxy and take the time to understand the implications of what you're voting on.
Get to know your fellow lot owners and discuss what's happening with them. It's likely if you have queries then so will they.
3. The Body Corporate Committee is at war with itself
You cannot please all of the people all of the time.
That's actually one of the fundamentals of body corporates and why there is such a plethora of legislation and case law on the subject. Struggles for supremacy, or the right to do it my way, are a way of life in strata schemes.
It's also the basis for voting. Quite simply the majority rules. It's a confrontational system that actually works quite well most of the time.
The only problem with a confrontational system is that in most cases there will be a winner and a loser. And people being people and not machines, well let's just say tensions can result.
In day to day life in the scheme that's not necessarily a problem.
When it spills over onto the Committee it's much more problematic and you get the kind of power struggle we're seeing at the moment in Australian politics. Each side blames and criticises the other and far more time and attention is spent on knocking down the opponent than actually getting on with the business of running things.
Disputes between Committee members lead to additional running costs and higher levies for body corporates.
If one faction is in power the other faction will try and sabotage their resolutions.
If the balance of power in the Committee changes there's the chance that decisions implemented by one faction will be reversed.
If the disputes become too acrimonious then applications can be made for adjudication, which in itself is not costly, however each application, each around 50 pages long, must be forwarded to every lot owners in the scheme, which soon adds to the bottom line.
Some competition and debate is healthy, even useful, however in these situations it's not uncommon to see verbal and written name calling, slander accusations and even physical confrontations.
Essentially wars between different factions waste everyone's time, energy and money.
What to do when the Committee is at war with itself?
This is a difficult situation. How do you get involved without seeming to take one side or another and inadvertently fuelling the arguments?
This is not my area of expertise and I've never actually seen a body corporate that's managed to successfully deal with this situation quickly. Usually one side or the other will gain power as lot owners come and go and the Committee moves forward slowly and acrimoniously.
I'd love to hear from anyone who has dealt with this issue. Please let me know.
Conclusion
The above are common examples of issues derailing Committees and strata schemes all over Australia.
It's tempting for lot owners to just roll their eyes, tut and say "why can't they just get it together". Unfortunately that's ignoring the fact that you are one of the "they" and have a responsibility here as well. Perhaps it's worth investing some time along with your money.
But for many lot owners the idea that someone else is taking care of things is worth any downside, although that attitude might be a little short sighted.