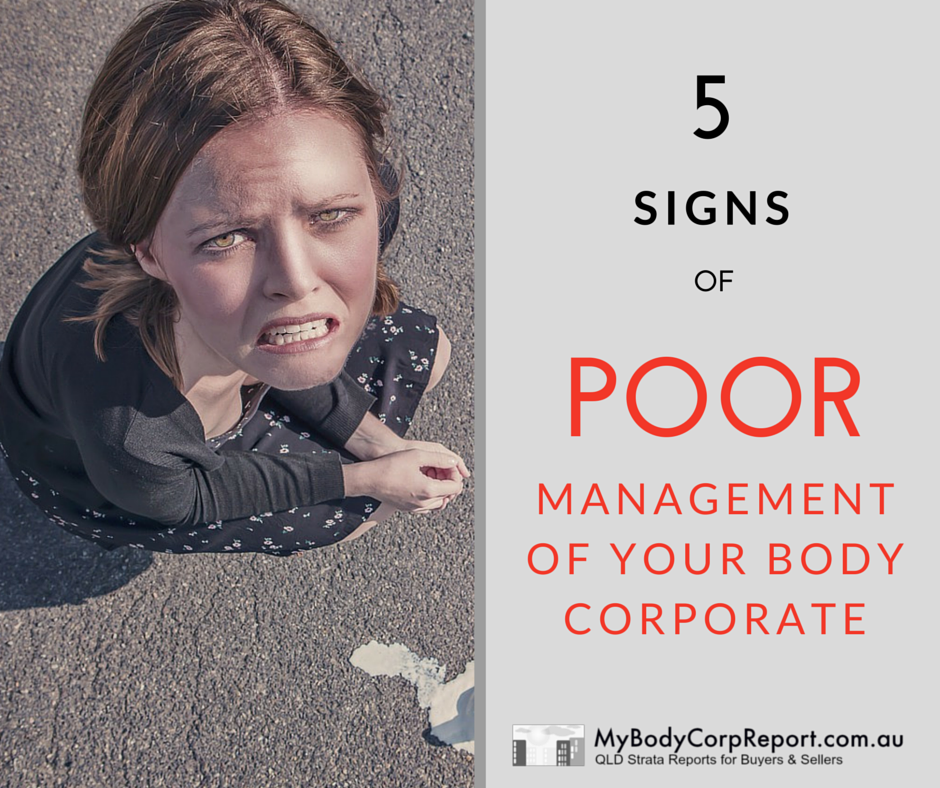 There's nothing quite like that sinking feeling when you realise things have gone pear shaped when you weren't looking. It's particularly pertinent for strata schemes where most lot owners' only brush with their body corporate management is paying levies and voting at annual meetings.
Although there is "help" available when disputes arise there is no oversight to body corporate management other than that provided by the lot owners themselves.
Which is great if you have a strong Committee who work well with a professional management company.
If you don't, well, problems can arise, and it's possible that things can get really bad before anyone realises.
Who Is Responsible for the Body Corporate Management?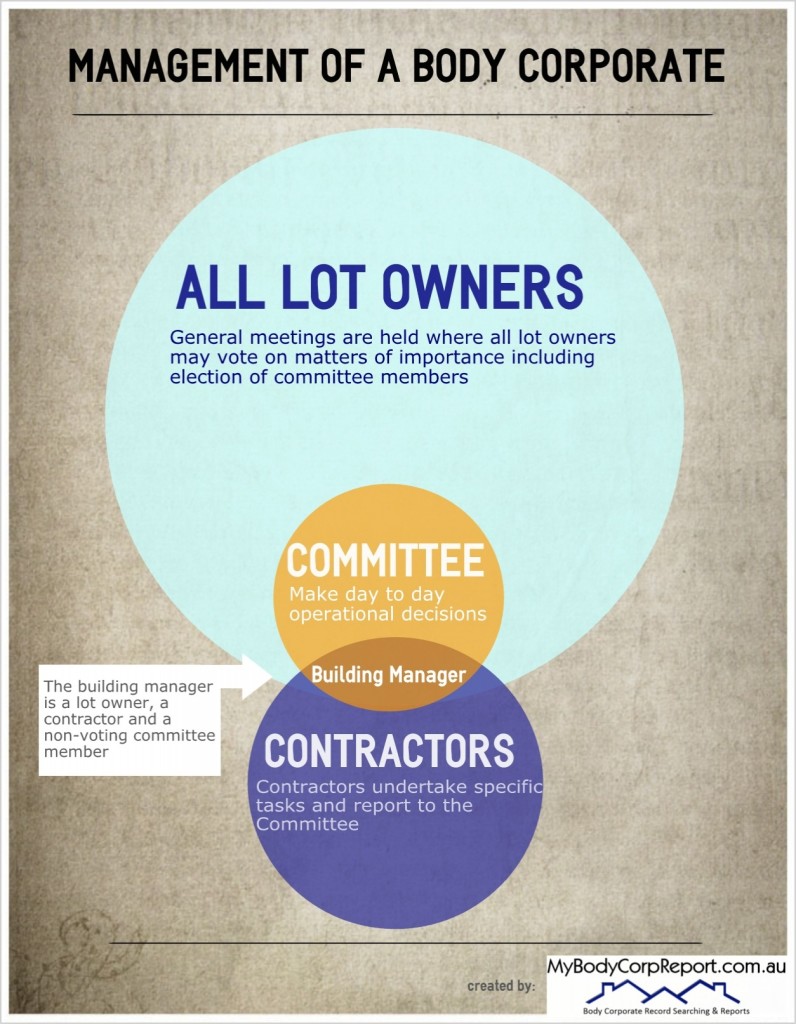 When things go wrong it's a very human reaction to immediately start searching for someone to blame!
In body corporate's there is going to be a number of parties that could be at fault but in most cases the root cause will usually turn out to be a collective failure of most or even all the parties in one way or another.
Management of a scheme is the responsibility of lot owners.
The combines lot owners elect a Committee to actually do the work at the Annual General Meeting.
The body corporate may also appoint a Body Corporate Manager and / or a Building Manager as independent contractors to take over part of the tasks of the Committee.
Poor management is a result of a breakdown somewhere in that chain of command, or as I've already said, more likely in a number of places.
5 Signs of Poor Body Corporate Management
Please note that the following items are indicators only. My job is to find threads that may indicate prejudicial circumstances for buyer. I find those threads then follow them to find out if there's anything nasty lurking in the background.
Often there is not and the scheme and management have very good reasons for doing what they're doing.
However, sometimes, particularly when two or three indicators show up, it means someone in the chain of command has dropped the ball and a crisis may be looming.
Here are five signs of poor body corporate management.
1. Poor Recovery of Levies
In Queensland levies must be disclosed prior to entering into a contract to buy, which means, despite what they may say, every lot owner has actually been notified that levies will be payable.
It's surprising then just how many strata schemes have significant amounts of Levies in Arrears.
Now some levels of arrears are to be expected since it's unlikely that all the lot owners will be on top of things 100% of the time. That said it is possible for long stretches of time for even the largest buildings to have very small or even no levies in arrears.
Contrast that with other buildings, some big, some small and everything in between, that have high levy arrears, up to 20 – 30% or even higher, which is the level where arrears will begin impacting on cash flow.
So what's the difference?
Whilst it's true that buildings with more investors and those that do holiday letting do tend to have more owners in default, it's certainly not set in stone. The main indicator of success with minimising levy arrears is the amount of time and effort put into collection of the levies.
Committees and body corporate managers with good collection policies, clearly communicated to lot owners, and most importantly a process for following through on those policies, will have the smallest levels of arrears.
It's a simple rule of collections: when an account is overdue you must consistently ask for payment if you want to receive it.
High levels of levy arrears is a sign their isn't a firm, well executed policy and an indicator of more serious management issues.
2. Late or missed Annual General Meetings
Annual General Meetings (AGM's) have specific purposes, things that need to be taken care of each year, at regular intervals, for smooth management and consistent cash flow for the scheme.
If a body corporate does nothing else each year they should at least have an AGM. Without it there will be no Committee and no levy issue, both serious hiccups in the process.
AGM's are so important that time frames have been legislated; an AGM must be held within three months of the end of financial year. Consequently a late AGM is a contravention of the body corporate legislation.
Now there are valid reasons why AGM's may be late, most commonly because a quote is being obtained for lot owners to vote on at the meeting.
Mostly though it's due to errors or delays that could have been avoided.
One late AGM is not really a problem.
Several years worth of late AGM's is frankly slack, particularly without leave of the Commissioners Office, but worst of all is AGM's that are missed altogether. Nothing says "no one here cares" more than no AGM and that's not reassuring when talking about your very substantial investment.
3. Slow or no response on repairs and maintenance
Body corporates tend to operate on a schedule (just like the AGM's above), with certain works done at certain times of the year. That's because a lot of these things are on autopilot.
Inevitably, however, there are going to be issues arising. An example would be light globes blowing in the basement car park or a loose railing in the stairwell, although it could a range of things including substantial building defects.
In a well managed body corporate issues are reported and dealt with promptly.
In a poorly managed body corporate issues may drag on for months, years even, and in some cases never get addressed at all.
Unresolved issues can, and often do lead to bigger issues like this landmark case in NSW where a water leak into an apartment from common property was ignored for years, even following mediation. Eventually the lot owner sued and won a settlement:
In addition to repair of the works, the judge also awarded damages for loss of rent, carpet replacement, legal costs, mediation … The total damages came to over $230,000. Given that there were only five lots, this was a severe awards cost
Swift resolution of common property maintenance and repair issues (each lot owner is responsible for his or her own lot) is important to maintain harmony and overall value of the scheme.
It's important to note that an important part of repairs and maintenance is prompt payment of invoices, something many body corporates overlook. Paying tradespeople promptly keeps them onside and avoids the ongoing challenges of finding someone to do works.
4. Budgeting in Arrears
The budget is an important document, since the budget is actually the yearly levies.
The administrative fund budget is an estimate of what will be spent in the forthcoming year, with reference to the past year costs, works that might need to be done and the current balance of the fund.
That total estimated figure becomes the levy issue for the year.
Budgeting in arrears circumvents this process. Specifically it a process where the scheme resolves to collect less than the plan to spend.
For instance, say the scheme has decided that running costs and works will cost $100,000 for the year, but at the AGM it's resolved that the administrative fund levy will be $90,000. This leaves a $10,000 shortfall.
Body corporates are no different that any other individual doing a budget; if you spend more than you collect then the balance must be funded from somewhere else.
Sometimes it's "borrowed" from existing sinking funds by way of a deficit of funds. Sometimes creditors simply don't get paid.
This practice is contrary to legislation and more than that it's simply dishonest. It is a deliberate decision to keep the levies low to suit lot owners at the expense of the scheme management and it's creditors, otherwise known as "having your cake and eating it too".
Paying lower levies is a valid option. But then you must adjust your budget to a lower figure. To incur works without funds to pay for them is unethical and really doesn't achieve anything other putting off the pay day.
5. Slow or no recovery of fund deficits
Most strata schemes run one bank account for both the administrative and sinking fund. That means if they overspend in one fund their is still money to meet costs. However that will create a deficit in the fund as discussed at number 4.
There are numerous occasions when a deficit can arise for all sorts of reasons, from simple timing issues for levy payments to the process of budgeting in arrears.
If funds are overspent in one fund the legislation is clear; those funds must be recovered, and the sooner the better.
Sometimes though, that doesn't happen.
Usually it doesn't happen because the lot owners are simply reluctant to pay more levies.
Unfortunately what that means is the debt hangs around and is only slowly whittled away, or in some cases not recovered at all.
The core problem is sooner or later those funds must be repaid, either as directed by an Adjudicator if a lot owner eventually complains or as a special levy when works are required but there are no funds available.
It's a particular problem if you're new to a scheme. It's incredibly frustrating to be in a position to finance a debt incurred by someone else.
In those circumstance I believe a lesser purchase price, to the value of the portion of the debt the Lot would be required to pay, be negotiated. You are going to have to pay it eventually, so get the funds from the outgoing owner now.
What to do if you have concerns?
A property is a big investment, and when that property is part of a strata scheme the common property forms as much of the value as the lot itself. It's to your detriment if the scheme is poorly managed.
If you have concerns, speak up! Bring the issues up with your Committee, and if that doesn't work, talk with the other lot owners to see if they have queries. Do some research like this website; there are hundreds of others out there.
Speak with the Office Commissioner of Body Corporate and if you have to make an application for adjudication. Even consult a strata lawyer.
Maybe it will be necessary to join the Committee yourself. If there are problems with contractors maybe it's time to change contractor, or in the case of a building manager, issue a breach notice.
And if you're buying into a particular scheme, get a pre purchase strata report: if there is a significant problem you'll be glad you did.
What do you think? Are there other symptoms of poor management? Leave a comment and let us know.