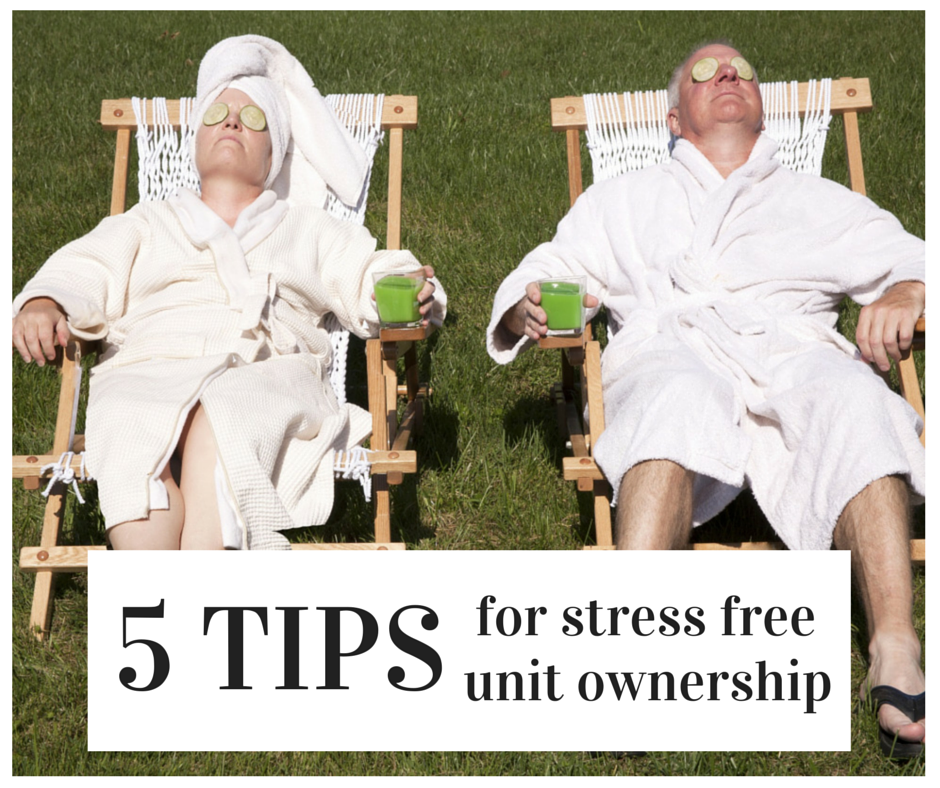 I'm a strata searcher. Most people look at me blankly when I say that so now days I tell them it's a fancy phrase that means I investigate body corporates. "Oh!" they reply and then proceed to tell me horror stories about their body corporate.
Don't get me wrong, I don't mind. In fact, keep them coming. I like to hear how people have fared in the world of unit ownership and the processes and events that created problems for them.
The more I hear these stories though the more I realise that the most common issue is really more about misunderstandings and communication rather than actual issues with the strata scheme.
Lot owners don't know what to expect and they don't understand the process and consequently when situations arise they turn into these dramatic, stressful situations that could have been avoided by following a few simple rules.
Surprise! It's a body corporate
If you buy one unit in a group, even if that's only half a duplex, that means the land has been strata titled and consequently there is a body corporate.
A body corporate is an entity that holds ownership of common property for the combined lot owners. It's also a vehicle to manage that joint asset.
There are a number of rules and regulations that come along with body corporates, all designed to protect your interests and those of your fellow owners.
Strata legislation can be incredibly complex and sometimes seems bigger than Ben-Hur, but, with a little bit of knowledge, it can actually be an easy and convenient lifestyle.
Follow these five simple tips for stress free unit ownership.
1. Take care of your lot
One of the core differences between houses and units is that almost everything that gets done around a unit block or complex is done by a professional. It's also done (or should be anyway) under a programmed maintenance schedule.
The end result is cleaner, tidier grounds and well maintained facilities.
But that relates to the common property only. Your lot is your responsibility.
And the expectation is that each lot owner will keep their lot as well presented and repaired as the common property.
Part of the overall value of the scheme comes from its uniform appearance. In most schemes anything that interrupts that uniformity will be frowned upon. Consequently there will be restrictions on how the outside of your lot may look. To avoid conflict stay within those guidelines.
Part of any strata scheme is shared infrastructure. That means if you have a repair issue in your lot then that issue may quickly spill over into another lot or the common property. You will still be responsible for fixing the issue in your lot, and if it causes damage in other areas, you'll be responsible for fixing that too.
Address issues quickly.
Which doesn't mean you should pay for something that is not your responsibility. If you're not sure of the source of a problem discuss the matter with your body corporate.
2. Pay your levies
There's a common myth that a body corporate is like a company or business.
From the tallest high-rise to the smallest duplex a body corporate is just a group of people who've invested in property together.
It's true a body corporate may appear very professional but that is simply because the combined lot owners hired professionals to make it look that way.
The costs of those professionals, along with all the other costs and a little for future works, are then shared among the lot owners and recovered as body corporate levies.
That's it. There's no profit, no marketing, no expensive business lunches. A levy notice is your share of how much it costs to run the body corporate.
And when lot owners don't pay … well, it's like going to dinner with a group of friends. Everyone eats and enjoys the meal, but when it comes time to pay one person goes, "huh, I don't have money, cover me will you?"
Pay your levies, on time every time. Your neighbours will thank you for it, and the body corporate is actually relying on those funds being paid.
3. Obey the bylaws
Body corporates are essentially about people: people's investments, people's homes and people's livelihoods. With all these groups of people conflict is going to arise sooner or later.
Harmony (or something approaching it) is achieved by setting and enforcing a set of rules and regulations to govern behaviours. Legislation accomplishes some of that and each schemes individual bylaws achieve the rest.
Bylaws will cover all sorts of things like keeping pets, using shared facilities, parking and so on. All the issues that relate to living in a shared space.
The bylaws will also set out what the body corporate or its representative may or may not do, such as entering a lot in the case of an emergency, or charging interest on overdue levies.
A bylaw breach is one of the most stressful things that can happen to a lot owner or resident. It can feel like your whole community has suddenly turned against you and be difficult to get past. Of course for others it's a call to war which is equally stressful.
Communal living works best if everyone is respectful and mindful of the bylaws.
And if you don't like a bylaw, maybe you should campaign to change it.
4. Keep informed
The business of the body corporate, or rather the combined lot owners, is going to forge ahead whether you take any notice of what's happening or not.
That's both one of the coolest things about communal investing and one of the most frustrating. Cool because if life runs away from you, no worries, you have co-investors to pick up the slack and frustrating because they may not, and, if they do, you may not like what they do, particularly if it involves paying more.
Any action taken in the name of the body corporate is transparent to all the lot owners. You will be helpfully sent minutes of all the meetings which clearly show the decisions made.
The rest is up to you though. You must take in interest in what's being done.
Read the minutes, and if you're concerned, discuss the matters with co-owners and Committee.
If you don't understand something, and matters are complex so it is likely, then it's up to you to educate yourself on what's going on. There are plenty of resources like this website on the internet.
You certainly don't have to accept everything that happens within the scheme without a murmur.
It is pointless to complain about things after the fact though.
5. Vote at general meetings
Majority rules in body corporates.
Some things are more important than others, like changing the bylaws or altering common property, so they require more of a majority. But the basic every year stuff is passed by a simple majority.
And that is not a majority of lot owners. It is the majority of the lot owners who vote. It is quite possible for a scheme with 100 lots to be ruled by ten people, even one person, if that one lot owner is the only one who bothers to vote.
Apathy is rampant in body corporates and it does everyone a disservice.
Communal investing is about sharing the load, sharing the vision to create an investment that grows in value and a supportive community.
The decision making needs to be as communal as everything else and that's the way legislation is set up.
Every lot owner has the right to submit motions for a general meeting.
Every lot owner has the right to vote on those motions. Contribute to your scheme by making your views heard by the simple process of casting a vote.
Conclusion

When you buy a unit you're investing in more than just a lot. Part of your investment is the common property of the building and that comes with rights and responsibilities.
By following the first three tips in this article you'll fulfil your duties as a good citizen of the body corporate.
By following the last two you'll become a valuable member of the collective team and have a real say in steering the destiny of your investment.
Or at least enjoy stress free unit ownership.