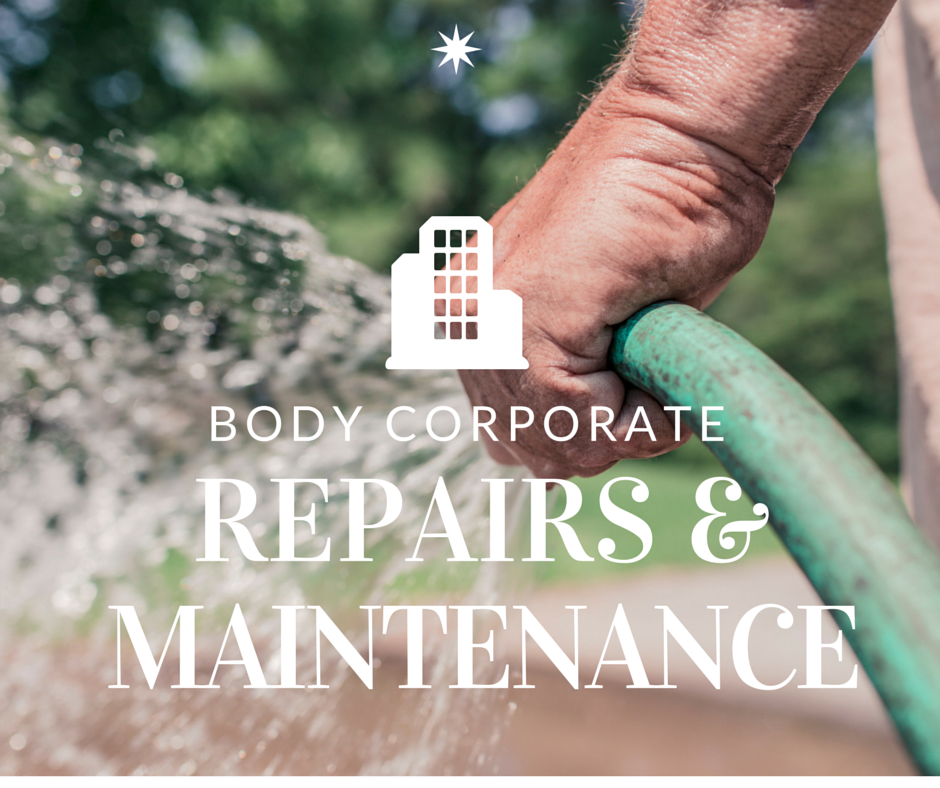 One of the coolest things about body corporates is their ability to stay neat and tidy without you having to personally  clean and tidy.
Of course there's no such thing as a magical self-caring property so someone is obviously taking care of the place.
Who is responsible for body corporate repairs and maintenance? More importantly is it you?
This article sets out who is responsible, the processes employed and where they go wrong. It also notes what your responsibilities are as a lot owner in a body corporate and what you can do if you don't agree with what's happening.
The scope of body corporate repairs and maintenance
A body corporate is simply a mechanism for holding and managing common property by and for the lot owners.
That makes the rules for repairs and maintenance nice and simple. The lot owners care for their own lots and the body corporate cares for the common property.
That's pretty much where we leave simple behind though because the next question, "what is lot and what is common property?," is one of the most hotly contested issues in body corporates.
And for good reason. It's much cheaper to pay a portion of a repair (via levies) than it is to foot the whole cost yourself. And vice versa. No one likes to pay levies for a repair that essentially benefits one lot only. Well, not if they don't have to anyway.
Defining boundaries between the lot and common property
In Queensland there are two plan types: building format plan and standard format plan. Every strata scheme is the state is either a building format plan or a standard format plan.
In all cases the actual boundaries of the various lots and the common property are shown on the plan for each particular scheme. The type of plan defines where to measure the boundaries.
Boundaries for a building format plan are measured from the centre of walls, floors and ceilings. The other side of the wall, floor or ceiling then is either common property or another lot.
For a standard format plan boundaries will be in the ground and defined by surveyors marks.
The first step in defining who is responsible for maintaining or repairing a particular piece of property will be defining who actually owns the property. If it's a lot, then the lot owner is responsible; if it's common property then it's body corporate responsibility.
The source of the problem and who it affects
Which is not to suggest that all problems that manifest themselves within your lot are automatically your problem.
For instance, say you have a leak in your ceiling. In an apartment building the roof may be the source of the leak and the roof is common property. Alternatively the source may be from another lot.
Who is responsible for all the damage caused by the problem will be determined by defining ownership of the property from which the problem sources. If it's your lot, you pay, if it's your neighbours lot, they pay and if it's common property then the body corporate pays. Unless the matter relates to infrastructure.
Infrastructure and Common Property
Sometimes there is infrastructure on common property that relates to only one lot. In that case any repairs or maintenance of the infrastructure would be at the lot owners expense.
For instance, I did a search recently where a gas leak was identified and repaired on common property, however the cost was billed to a specific lot. The pipe in question, though it was located on common property, only serviced the one lot, therefore was that lot's responsibility to repair.
Insurance claims
When problems occur in body corporates often an insurance claim can be made to defray the cost of repairs.
The same rules will still apply with regard to determining who is responsible for the cost. Whomever is deemed responsible, i.e. the lot owner or the body corporate, will also be responsible for paying the insurance excess and any amounts not covered by the claim.
Who is responsible for common property repairs and maintenance?
It is entirely possible that you, actually the majority of lot owners, can and will have very little involvement in the actual process of cleaning and maintaining the common property scheme.
Except for the delicate matter of the bill, of course.
Body corporates are led by Committee, the representatives from the pool of lot owners duly elected at the Annual General Meeting.
It is the Committee's responsibility to arrange, implement and monitor common property repairs and maintenance.
Which doesn't mean the keys to the cleaning closet are handed over at the same time as the Committee is finalised.
In all but the very smallest schemes professionals are hired to undertake cleaning and maintenance tasks. That can be as simple as employing a regular lawn mower and as complex as engaging a Building Manager under a Caretaking Agreement.
How the Committee chose what to do
The Committee's responsibility is to keep track of what needs addressing and make plans to address it.
Most existing body corporates will have a framework to ensure the scheme is cleaned on a regular basis. Those processes will need to be monitored and any issues addressed.
Other repair and maintenance problems, which would include everything from blown light bulbs in community lighting right up to complex structural defects, need to be addressed on a case by case basis.
The key tool for deciding what gets done and when is the budget.
Every year the Committee budgets what they're going to spend, and what on, and estimates the cost of those outgoings. This is the budget which forms the basis of levies.
There isn't a lot of wriggle room in the budget, which is one reason why it can take such a long time for common property issues to be addressed. The Committee is literally waiting for the opportunity to make funds available.
Urgent repairs
Obviously some things don't have the option of waiting, like a burst pipe or fire in the scheme.
In these cases the body corporate will take action immediately and deal with the fallout later, which can include all sorts of nasty things like disputes over who is liable, special levies to recoup unintended expenditure or delays to other repairs.
In all cases it will be the Committee responsibility to authorise action and deal with the consequences.
Who actually undertakes the work?
One of the most common issues for small to medium buildings is who is going to actually do the work. Quotes need to be obtained and authorised and the work monitored and inspected before payment can be made.
If it can be that process is outsourced to professionals, however much of it will fall to the Committee to arrange.
For larger schemes a Caretaker is appointed and a large portion of their role is to either do the works themselves or manage the process of appointing another professional.
The Caretaker reports directly to the Committee who are responsible for making decisions and authorising next steps, within the defined spending limits of the scheme.
Body Corporate Managers (BCM's) and repairs and maintenance
It's a common misconception that the BCM will organise and execute repairs and maintenance around the scheme if there is no Caretaker.
It is true that some Mangers will undertake these types of works, however the general rule of thumb is they do not.
For most schemes the Body Corporate Manager is unlikely to be involved in maintenance issues beyond issuing a work order to an already specified workman and then paying the bill, and only then at the express direction of the Committee.
For those buildings without a Caretaker the task of identifying needed works, obtaining quotes and monitoring works will fall to the Committee.
Problems arising with body corporate repairs and maintenance
The process of body corporate repairs and maintenance is very reliant on the effectiveness of the Committee.
The process breaks down when Committees fail to act, fail to act quickly or when there isn't an active Committee.
It's also common to have issues finding tradesmen. The larger a building the more complex it becomes and it can be difficult matching skill levels required to undertake works against what the scheme can afford, or will, pay.
Complexity can become a real problem for defining what the issue actually is. This is particularly important when it comes to building defects which may be enormously complex and further hampered by the necessity to process requests through approved channels to tick all legal boxes should litigation be required.
And as already discussed financial issues can create time lags.
What can you do?
As a lot owner it's to your benefit the scheme be regularly maintained and repaired.
If you see anything that you feel hasn't been addressed write to your Committee discussing the matter and asking for the repair to be undertaken.
The Committee will table the correspondence and discuss it at the next meeting. The repair may not be undertaken, however reasons why and other considerations will be noted in the minutes, a great benefit for both general understanding of lot owners and the sale of lots.
If repair and maintenance issues are lagging because the process has broken down consider what you can do to help. Can you join the Committee? Do you know some tradespeople? Do you have particular skills that may help?
Remember the Committee are people just like yourself and you may have skills or knowledge they're looking for.
What if you don't agree with what the body corporate is doing?
In an environment where "majority rules" it's very common to come across those who disagree with the direction the Committee is taking with repairs and maintenance and refurbishments and upgrades.
The best thing you can do is to express yourself (remembering to be respectful and limit your complaints to behaviour not personalities). You may find support from other lot owners who feel as you do.
Formal objections may be made via an Adjudication Application or a Notice of Opposition to a Committee decision. These are legal avenues and it's a good idea to seek legal advice before going in this direction.
Assuming all the legislative boxes are ticked and it's the will of the majority you will simply have no choice.
What do you think?
Body corporate repairs and maintenance are difficult issues for most schemes. A consistent and mindful Committee couple with good communication will make all the difference.
What about your experiences? Is there something that happened in your strata scheme that you found particularly difficult to deal with? Leave a comment below and share your knowledge.