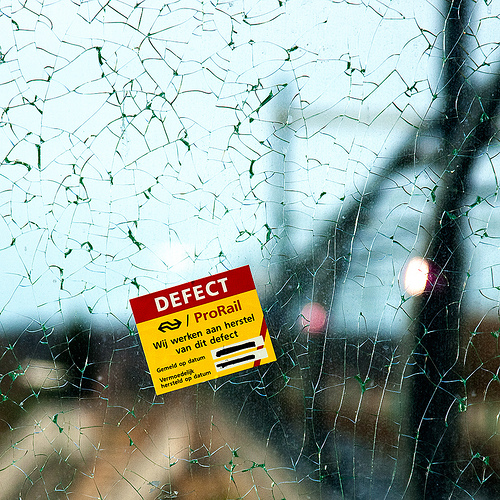 In the June issue of Strata Voice there's an interesting article "Is Strata Title Keeping Up With Higher Density" presenting research by City Futures Research Centre at the University of New South Wales.
The research reveals 72% of those surveyed had experienced one or more building defect. That figure becomes 85% for buildings built since 2000.
These figures are similar to what I've read in body corporate records here in Queensland. Body corporates and building defects go together like peanut butter and jelly.
What is a building defect?
Building defects are physical problems with the infrastructure or finish of part, or in some cases all, of a building. They can manifest as water leaks, electrical faults, leaking water pipes, bad smells, excessive machinery noise, and so on and so on.
The key definer of a building defect is the problem resides in the building itself.
In the City Futures research study mentioned above the following building defects were identified: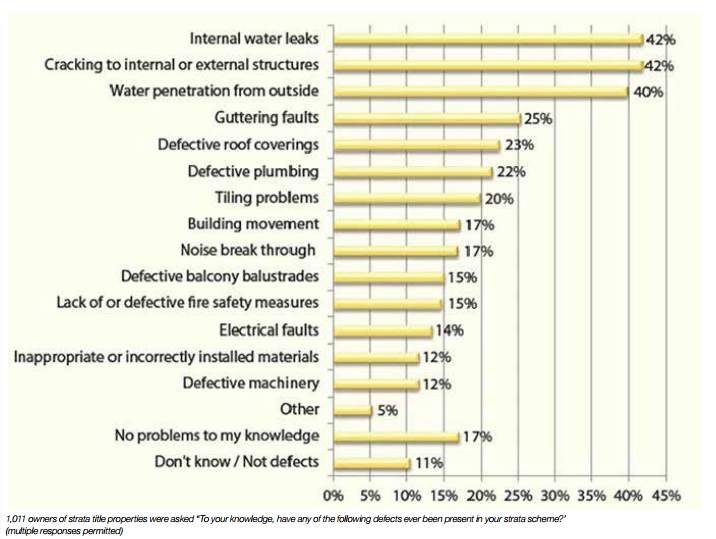 That's a lot of problems.
Who Is Responsible For Building Defects?
If you lived in a house and it suddenly developed a water leak then, as the owner, you would be responsible for fixing the own leak.
It's no different in a body corporate; the owners are responsible for fixing building defects. If the defect is in a lot, that lot owner is responsible. If the defect is in common property the collective owners, or the body corporate, is responsible.
And that's where it gets a bit more complicated. Quite a lot of owners have difficulty with identifying boundaries between common property and the lot.
Then there's always the question of where does the defect originate. For instance a flooded apartment on level two might be flooded by a burst pipe on level three or on common property. Responsibility lies with whichever property the defect stems from.
Building Warranties
Whilst some building defects develop over time, such as concrete cancer or a leaking water membrane, the majority of building defects arise because of the design of the building, the construction process or the materials used.
The good news is construction defects are covered by the Builders warranty. Category 1 defects, or structural defects, are warranted for six years and eight months. Category 2 defects, or cosmetic defects, are warranted for six months.
The body corporate committee is responsible for reporting building defects on common property to the builder.
Each individual lot owner is responsible for reporting the building defects within their own lots.
If warranty periods have expired then responsibility falls back to the lot owner, or collective lot owners.
Building defects that stem from the materials used are more complicated. The supplier of the materials is usually responsible in some way, however that is a matter between the builder and the supplier.
Unfortunately problems arising from poor design are usually there to stay.
The Real Problem With Building Defects
Looking back at the City Futures research above, of the 85% who noted building defects in their buildings a whopping three quarters said those defects have never been fixed.
And that's the real problem with building defects. All that clear cut responsibility is all well in good in theory but a lot murkier in practice. Establishing who is ultimately responsible can be a long involved process.
The issues are further compounded by the legislative processes of body corporates. Decisions are made by committees who meet infrequently. Quotes must be obtained prior to any work being undertaken and the committee must at all times work within spending limits.
It is not uncommon to see building defects drag on for years. Particularly when it comes to water penetration, the most common defect experienced. It can be very difficult to determine where a water leak is coming from and what will fix it.
Particularly if that solution is costly, which sometimes it is. Collective lot owners may baulk at spending many thousands of dollars to fix a water leak or other issue which is experienced in only one lot.
Disputes around building defects, and what should be done about them, are common and usually costly.
Conclusion
Building defects happen in all buildings but especially in complex buildings like apartment buildings.
They don't necessarily need to be too much of an issue. The severity of the problem and the responses of those to whom it affects will make the most difference.