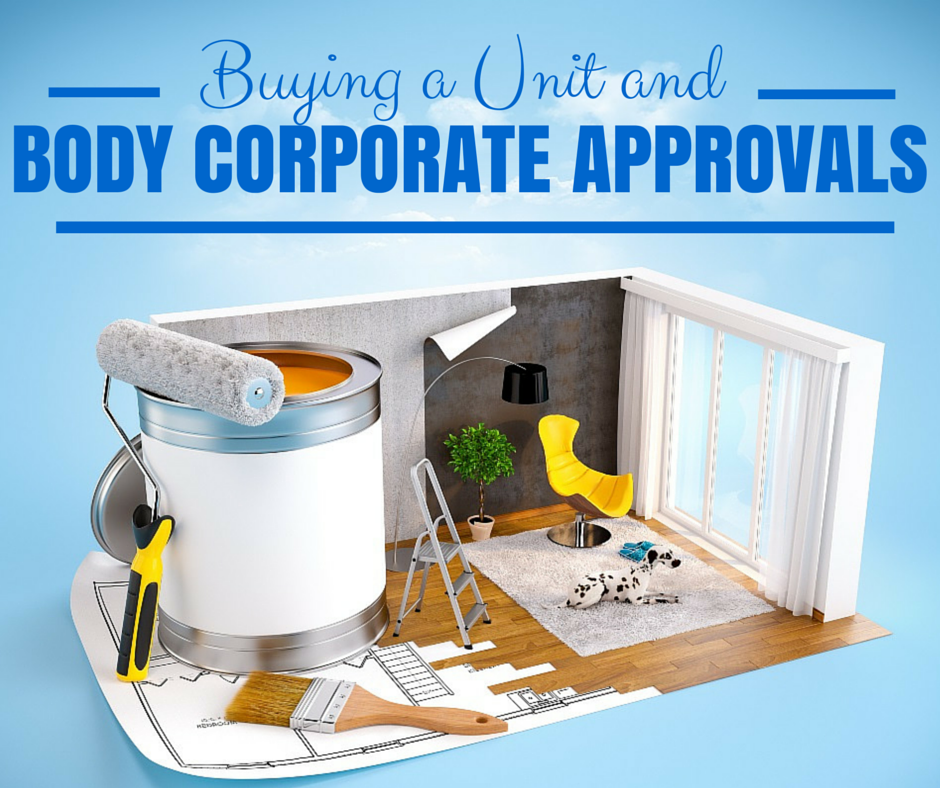 One of the most overlooked items when buying a unit is remembering to check that body corporate approval has been granted for any changes.
Body corporate approvals are written documents from the Committee to a lot owner granting permission for whatever is being sought. It might be approval to keep a pet, to install a structure, or an air conditioner, or anything at all.
The issue with approvals is that some will transfer with the lot and some will extinguish when the outgoing lot owner is gone.
For instance, approval to have a pet in a lot will automatically be revoked when the lot owner, or tenant, leaves, or when the pet in question passes away. The new owner, or new pet, will need another approval.
By contrast permission to alter the lot or improvements on common property for which lot owners are responsible will pass from one lot owner to the next without further body corporate approval being sought.
Problems with body corporate approvals arise when the approval is granted with conditions or, alternatively, no permission was sought or granted at all.
An Example Scenario
Imagine you inspect a unit and fall in love. It's everything you want from the view to the layout to the beautiful timber floors. You make an offer and hey presto (meaning a stressful and moderately expensive legal process) the unit is yours!
Now image if one of the first correspondences you received from the body corporate was a complaint from your downstairs neighbour.
Your beautiful timber floors are too loud. Every time you take a step or move a piece of furniture it echoes through their lot.
The body corporate has directed you to minimise noise and stop annoying your neighbour!
You try to be more careful. You put stoppers underneath all your furniture to muffle the sound. You keep still and try not to move around too much, which in all honesty is a bit of a hassle, and your shiny new unit is starting to feel just a bit tarnished.
You've done the best you can but the next communication you receive is a direction to show the body corporate approval or remove the flooring.
What The!?! Can They Do That?
This may sound like a far-fetched scenario but it is a real situation that does happen from time to time.
And yes, if the flooring was installed without body corporate permission then you can be ordered to remove it and, if you don't, then the order can be enforced through the Magistrates Court.
Equally if the floor was installed without adequate insulation you can be ordered to rectify even to the cost of having to re-floor. That the floor was installed by your predecessor, or even their predecessor for that matter, doesn't have much bearing on the matter. When you take on the unit you're taking on all its history as well.
Which is what makes it so important to check the body corporate approvals for any structural changes when you buy a unit.
Who Cares? … Everyone Should
That may sound counter-intuitive; why would the body corporate care what you do in your lot?
They don't, so long as what you do doesn't impact any other lot owners or the common property.
In the example above the lot owner is creating a disturbance for the lot owners below with their noisy floor. It may sound petty, but consider, if it was you underneath wouldn't you want to turn somewhere for help?
So, please don't demolish any load bearing walls, or install timber flooring without adequate acoustic underlay or hang bright purple blinds in external facing windows when everyone else in the scheme has green.
All these things impact on the other lot owners or detract from the uniformity which forms part of the value of the overall scheme.
Controlling Changes with Body Corporate Approvals
The mechanism for controlling changes in strata schemes is body corporate approvals.
Specifically, if you want to make a change, you must seek permission from the Committee to do so.
Not only do you need to seek it, it also needs to be granted.
And the whole process is helped tremendously if someone takes the time to write it down, preferably in the Committee Meeting minutes when the approval is granted. Minutes of meetings are neither destroyed nor archived whereas correspondence is.
Writing it down is a vital step. Lot owners, Committees and even buildings change. Something that was done by one owner in 2005 with tacit approval of the Committee, may be challenged for the next in 2015.
Coming back to our example scenario if the lot owner can find a written body corporate approval, or even a record of the approval in the minutes, then the floor is validly installed and the body corporate cannot order it removed in breach of by law.
The problems are not over for the lot owner, since now some form of accommodation must be made with the disturbed resident, however the threat of removal is gone.
Finding Body Corporate Approvals
I once spent the better part of a day pouring through body corporate records looking for an approval for a structure erected between 1984 and 1999 in a large high rise.
There were literally hundreds of thousands of documents to review.
Frustratingly the body corporate approvals were granted to lot owner's rather than lot numbers (lot numbers remain constant but lot owners come and go hence referring to lot 1083 is far better than granting approval to Mr & Mrs Smith) making the whole project enormously difficult.
Unfortunately this is a common problem with it comes time to find body corporate approvals in body corporate records.
Recording of this information can be hit and miss and finding the information will take dedication and attention to detail.
What You Can Do To Help Find Body Corporate Approvals
If you seek approval for anything from the body corporate keep the letter granting approval, with any conditions, safe. Include the details when you list your unit.
When you inspect a property keep a look out for any alterations or things that look different from this lot to the next. If you spot something ask for an approval.
If you're ever unsure about whether something may have needed approval ask the seller or alternatively, if there is one, the onsite manager.
If you do need to find a copy of an approval include the information in your written request for a pre purchase strata report and see if the agent can find the information.
Try and find out as much as possible about when the approval may have been granted. It will make finding it in thousands of pages of documents easier.
Conclusion
Hard flooring, air conditioners, shutters, satellite dishes, solar panels and shade sails are all examples of changes that may have required body corporate approval.
If these alterations are present in your potential unit spend some time and effort getting hold of the body corporate approval. It may be a lifesaver.