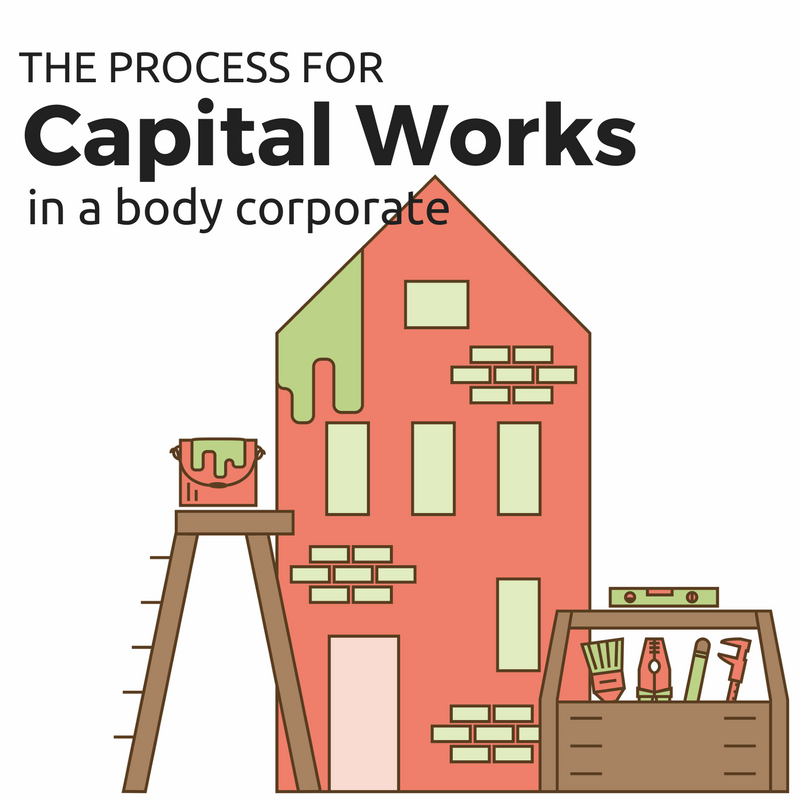 A sinking fund exists for one purpose: to fund capital works. Capital works in a body corporate have a specific process that's followed from start to finish, with differing levels of professionalism and success unfortunately.
I see this process over and over in the smallest to the largest building. For both buyers and existing owners its a daunting prospect. The committee process and 'majority rules' mentality is particularly challenging when large sums of money are being spent.
This article is about the various stages of capital works in a body corporate and where they break down.
For the purposes of this article lets define a "major project" as one that uses ½ or more of a schemes annual budget, across both administrative and sinking funds. For instance if the collects a $20K p.a. a major project would be anything over $10,000, if it collects $1 million then anything over $500,000.
Major works can be building defects, maintenance or improvements
The most common capital works strata schemes complete are:
Exterior painting
Concrete spalling works (concrete cancer repairs)
Water membrane replacement
Roof replacement(s) or repairs
Window replacements
Lift refurbishment or replacement
Road resurfacing
Replacement of mains pipes
Balustrade replacements
Refurbishment of foyers / common property
Fire safety installation upgrade or rectification
Major projects are either defect rectification works, maintenance works or improvements, or a combination.
For instance, exterior painting is part of the structural maintenance program for concrete and steel buildings. As every inch of the exterior is examined, prepped and painted it corresponds that any defects identified will also be repaired. Incidentally this is how most concrete cancer is identified and repaired.
Similarly, balustrade and lift refurbishment and / or replacement are both responses to defect situations and  improve building appearance or functionality.
In most cases the only difference is going to be funding.
Maintenance and improvements are budgeted for; funding them is the purpose of your sinking fund.
Defects are unplanned expenditure which require creative funding solutions.
The process of capital works in a body corporate
There is a simple process that all major projects follow:
Reporting of symptoms
Investigation of causes
Scope of works
Tendering and funding
Completion of works
Rectification of defects
1. Reporting of symptoms
Symptoms of issues around bodies corporate get reported all the time. A contractor will do a small job and point out a larger issue; owners write in with a complaint; committee members may be monitoring the condition of the scheme.
Once notification of a problem has been received the committee should dispatch someone to investigate, or alternatively, refer the matter back to the lot owner. The issue should at the least be acknowledged.
Committees in well managed schemes spend large blocks of time chasing up other people's reported issues.
Unfortunately this is the first place this process breaks down; problems might be reported, even multiple times, but action can be slow coming.
2. Investigation of causes
Once reported the issue should be investigated.
In reality what that often means is a contractor (or Caretaker) is appointed to rectify the issue. Minor works happen and the matter is then closed.
When capital works are required the symptom will repeat.
Water leaks are a good example. They can be difficult to isolate and you need to wait until the next big rain to find out whether the remedy was successful.
The most common issue here is that symptoms appear again, another remedial action is taken, closed again. Some problems get trapped in an endless cycle of report – remedy, report – remedy. That's understandable. No one wants their water leak to require a roof replacement.
If a symptom is happening repeatedly, or in more than one unit, then it needs to be acknowledged the problem may be larger than first thought and professional advice sought from an independent party.
The best outcome here is a clear outline of causes and recommendations for repair.
3. Scope of Works
The scope of works phase is a busy to-ing and fro-ing stage where different options are investigated, weighted and considered.
There should be lots of discussion, reported in committee minutes, about the pros and cons of different ideas. This is the time for brainstorming and decision making.
At the core of these discussions will be money. How much does each remedy cost? How much does the scheme have? What other funding options are there?
Its common at this stage to bundle projects. If scaffolding is required it's cheaper to do multiple jobs at once than have two lots of scaffolding erected.
If the issues are extremely complex a project manager with expertise in the subject area may be engaged to liaise with contractors and report to committee.
The process breaks down here if the committee are unwilling or unable to make a decision. The project may be especially complex, or the best remedy uncertain. Analysis paralysis if the enemy here.
4. Tendering and Funding
Any major expenditure in a body corporate will require at least two or three quotes, depending on spending limits and cost of the project. To proceed a motion must be passed at general meeting approving the works in theory and then a quote selected.
In large schemes a professional Scope of Works (prepared by a specialist project manager) will be submitted to contractors and they will provide a tender. For smaller schemes the process is as simple (or woefully hard) as obtaining quotes from two or three qualified contractors.
The quotes will define the funding requirements.
There are several ways a project can be funded. Existing sinking funds are the most common, but also insurance payouts, a settlement from a builder or developer, a strata loan or raising additional funds via a special levy.
When both quotes and funding options are prepared, the scheme will hold a general meeting and owners will vote on the matter.
This part of the process breaks down when delays happen with obtaining quotes, issues arise with calling general meetings or the owners vote "NO".
Delays in passing motions risk that the quote may no longer be valid and the contractor must re-quoted. If the quote is larger then another meeting is required.
5. Completion of works
Once the motions are passed contracts are signed and the contractors are given the go ahead.
Hopefully the works are triumph of organisation and workmanship that runs smoothly to a successful, and speedy conclusion.
More likely there will be a lot of complaints and issues to deal with. Things like weather, staffing problems, the ever-present parking issues and, depending on the works, lot access issues can all derail works.
Contract variations are also a normal part of this process as unaddressed or unexpected issues are identified and overcome. If the previous parts of the process have been thorough then hopefully these are minimal.
This process breaks down for any of the reasons listed above and anything else you can think of. Murphy's Law says if it can go wrong it will go wrong.
6. Defect Rectification
Its nice to think that tradespeople will do a perfect job first time. Unfortunately it's uncommon.
The bigger the project the more complex the works and the more likely something will go pear shaped. Again however, defects are a normal part of having works done and, so long as they rectified, not much of an issue.
Fixing errors made in the works is the last and often the most cumbersome part of the project. Patience, persistence and good communication are important here.
Failure to get defects rectified to an acceptable standard is the most common way this part of the process breaks down. Hopefully the issues are small and negotiation can resolve.
On rare projects the defect issues are large, including failure of the works to rectify the problem. The scheme then changes one major project for another as legal action is usually launched.
Conclusion
For the majority of owners the impact of capital works is likely to be limited to funding and inconvenience.
By far funding is the larger stressor.
For buyers it's even more of an issue as you now need to decide if you're willing to take on the risks. Where the process is at will make all the difference. If the works are quantified and quoted and you have a clear definition of your potential risks. Otherwise, like the owners, you need to wait and see.
The thing to keep in mind is that this is a process and eventually it will be complete.
Capital works, even those that address defects, add significant value to a scheme. When they're finished.