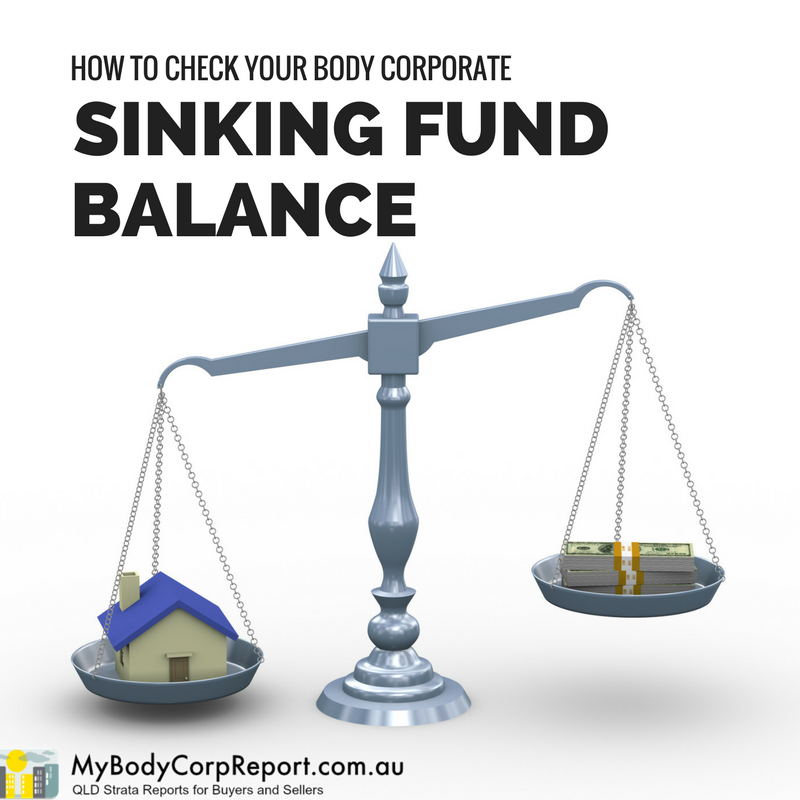 The most common question buyers ask is What is the body corporate sinking fund balance?
What does that really tell you though? A big figure is good, a small one bad? It's too simple a measure without some context. A clearer question is how much do we have and how much do we need? 
This article is about how to find the answer to that question, or, more accurately, as close as you can given we're looking at forecasts.
Documents Needed
The documents required to check body corporate sinking fund balances are:
Sinking Fund Forecast
Current financial statements
Current annual sinking fund levy (per lot entitlement)
What we're going to measure is the relationship between the forecast needs of the scheme and actual accumulation of funds.
There are two key performance indicators (KPI's) we're looking for:
The ongoing balance of the sinking fund
The annual contribution per lot entitlement
A Sinking Fund Forecast is a Capital Needs Assessment
Every Queensland scheme registered under standard, accommodation or commercial module must have some form of Sinking Fund Forecast (SFF) projecting at least nine (9) years into the future.
The forecast must contain an estimate of what works are likely to be needed with a cost and timeline for those works.
For instance: Regular painting of concrete is important for maintaining structural integrity and is estimated to be needed every 10 – 15 years, or, if you're in a coastal environment, every 7 -12 years.
This schemes forecast should say, in 2020 we will need to paint the building at a cost of $20,000. Currently we have $1,000 so we need to collect $19,000 in three years. Assuming 20 lots, that means a contribution of $333.33 per lot entitlement (assuming equal entitlements), per year.
There are three parts to this example:
The timeline of works and estimated cost,
The running balance of the sinking fund,
The contribution per lot entitlement.
These are the same three things which should be included in every SFF .
How To Check The Running Sinking Fund Balance
On the Balance Sheet of the current financial statements find the body corporate sinking fund balance at the end of the last financial year.
Refer to figure 1 and note, in this example $73,127.99.
Next find the Cash Flow Tracking table (it may be named something else) in the SFF and look for the corresponding financial year as your financial statements.
Refer to figure 2 and note, in this example $19,127.
Our example looks pretty good. The scheme is estimated to have $19,127 but actually has $73,127.99, well ahead.
Overstatements are rare though so we must look for more context to understand what is happening.
How To Check The Annual Contribution Per Lot Entitlement
In the SFF find the Levy Table and look for the estimated contribution for the current financial year.
Refer to figure 3 and note, in this example $1,057.14 per contribution lot entitlement per year.
Next look in the AGM minutes for the sinking fund levy issue for the next financial year.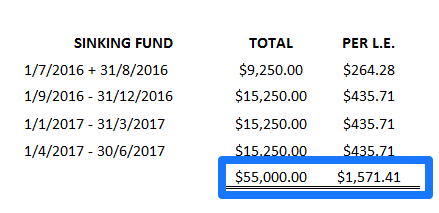 Refer to figure 4 and note in this example $1,571.41.
The scheme is collecting significantly more than is forecast.
Making Sense of The Measurement
If a scheme has a sinking fund forecast then in the majority of cases they follow the recommendations. How else can they know what levy to set?
That means for most variations there will be a reason.
For instance, in this example, the scheme has more than estimated but is still collecting more than suggested.
What is happening?
If you go back to the Cash Flow Tracking you'll note that the SFF suggests expenditure of $105,889 for the 2016 financial year. A quick check of the financials will let you know if this amount was spent.
In the scenario above I can say definitively (because I set it up) that the scheme is due for large expenditure but they don't have enough funds. They've elected to increase their sinking fund levies to boost their balance.
They plan to collect $55K for this year, on top of $73K they already have, which will put them in the ball park of $105K to fund the expenditure.
What You Can Learn From This KPI
When I check these KPI's I'm, usually, doing so on behalf of a buyer. Its part of a group of financial KPI's I'm checking to highlight risks for buyers.
Most major issues within a strata scheme will, eventually, have an effect on the sinking fund balance. This simple measure can highlight:
If the scheme is following the forecast: depending on whether they have more or less it gives hints about the management of the scheme and attitudes of owners.
If the scheme is likely to need additional funds in the near future: if you're buying and banking on levies staying the same a body corporate levy correction can be catastrophic news.
If the scheme is undertaking the capital works suggested: well maintained buildings last longer. Poorly maintained buildings have a day of reckoning.
If the scheme is paying for additional works not included in the forecast: maybe the scheme has some major defect(s).
If the scheme is managed and maintained well: the capital works are undertaken within ballpark of when suggested and the balances are tracking nicely with the SFF.
Conclusion
This is a simple check that can be done by committee's, body corporate managers, buyers and lot owners. I use it hand in hand with other measurements I'm taking in a pre purchase strata report for an idea of how the scheme is likely to perform in the future.
Glaring variations are jarring and more information may be needed. The balance of a scheme's sinking fund forms part of the value of each lot. A healthy sinking fund is reassuring. A low balance is a read flag.
Lot owners need to watch what's happening in their scheme and this is one simple financial measure to check.