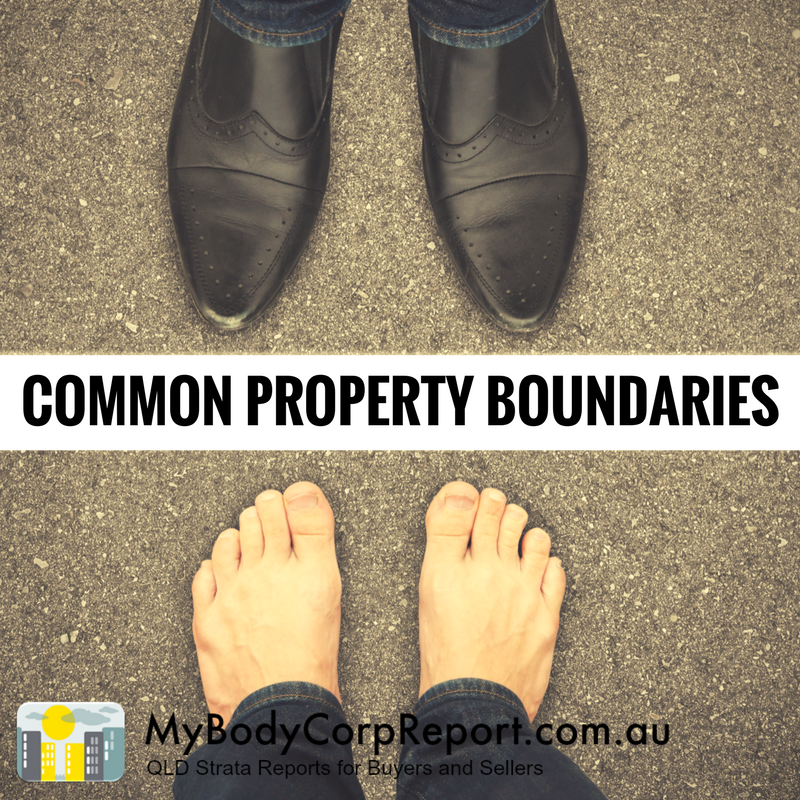 Defining common property boundaries in a body corporate is essential in working out who is responsible for what.
As a general rule of thumb: common property = body corporate responsibility, lot = lot owner responsibility.
Bodies corporate are forbidden from spending joint funds on works that benefit a lot and for lot owners there is no sense in paying for something you don't need to. Knowing where your responsibility starts and ends is as simple as knowing where your boundaries are.
The key to common property boundaries, with some exceptions which I'll discuss below, is where the boundaries between lot and common property lie.
Standard Format Plan and Building Format Plan is shorthand for common property boundaries
In Queensland strata schemes are categorised into Standard Format Plan (SFP) and Building Format Plan (BFP).
The original Building Unit & Group Titles Act (BUGTA) had two separate types of schemes. Building Unit Plans, or vertical developments and Group Title Plans or horizontal developments.
When legislation changed in 1997 BUP became BFP and GTP became SFP.
It sounds confusing but it isn't really.
All vertical developments, be they 2 floors of 100,  are Building Format Plan and the boundaries are measured from the centre of the doors, floors, walls and ceilings. So for instance your front door: half is considered your lot and half common property.
Boundaries in a Standard Format Plan are measured from pegs in the ground exactly the same as for a house lot. The only difference is the unit is located within a common property precinct rather than a street.
Things get confused because horizontal developments can be either BFP or SFP and the plan itself tells you which applies.
The difference between BFP and SFP
All this discussion of vertical vs horizontal is challenging. Let's look at a simple example.
This is a common duplex arrangement. The two properties are joint only at their garage.
This sort of property can be registered as either a standard format plan or a building format plan.
If a BFP then common property could look like this:
The area around each lot is common property. The lots are the buildings themselves only. The boundary would be measured half way through the doors, floors, ceilings and walls.
If a sinkhole developed in the garden of lot 1 in this example it would be body corporate responsibility to resolve.
If a SFP common property could look like this:
The boundaries are measured by pegs in the ground and the lot includes the building and all its surrounding land just like a freestanding home. The difference is the two lots share some common property.
If a sinkhole developed in garden of lot 1 in this example it would be up to lot 1 to resolve.
The main difference between SFP and BFP is less common property, more lot. Less common property means less administration and lower levies.
Joint lots and joint infrastructure
A lot of common property, particularly in these SFP examples, is invisible, such as plumbing and electrics. How then do you decide who is responsible for what?
Common property, other than chunks of land, is defined as something that serves two or more lots, and it can be located in one lot but still serve multiple lots.
So for instance, if the main sewer line for both lots ran through the garden of lot 2 then it would be body corporate responsibility to maintain notwithstanding the infrastructure is contained within a lot. It benefits both parties.
Another good example is the roof.
In example above of SFP Duplex any leaks in the roof would be in one property or the other, hence the responsibility of that owner. By contrast the guttering is one complete system that services both lots hence body corporate responsibility.
Infrastructure on common property that is lot owner responsibility
Just because some part of the infrastructure is located in common property doesn't automatically make it body corporate responsibility either.
Infrastructure on common property that services only one lot is the responsibility of that lot owner.
Imagine a scheme's switchboard and main's power supply could be represented as a power board. That board itself would be on common property, as would the leads servicing each lot.
The body corporate is responsible for making sure the power board is live.
Each lot is responsible for maintaining the connection from the power board to their own lot, even though the connection is on common property.
Common property allocated as exclusive use
In our BFP duplex example above the yards of the individual lots would likely be allocated to the respective lots as exclusive use.
Individual lot owners are responsible for the maintenance of exclusive use areas.
That begs a bunch of other questions. What is maintenance? What is structural? How far are lot owners expected to go to maintain the area?
Answering is going to be dependent on the circumstance of each case and will be dependent on a lot of different factors, not least of which is going to be how your particular scheme decides to treat things.
If this is your situation, and you object to the decision made, seek legal advice or contact Office Commissioner Body Corporate.
Conclusion
One of the most common disputes in bodies corporate is who pays for what and a lot of owners are caught out being charged for things they don't expect.
The overriding principle of body corporate legislation is fairness. Everyone pays their own way, except to the degree that the cost should be shared with other owners.
This is complex stuff and mistakes happen all the time. You must protect your own rights because no one else is going to. The best way to do that is to get clear on what is your responsibility and what is not.
SFP and BFP get tossed around a lot. Don't get distracted by the terms. What's being talked about is the lot and common property boundaries.
And remember, regardless of the type of plan your scheme is, there is only one legislation. The BCCM Act 1997 applies to all schemes registered with a Community Management Statement (CMS).