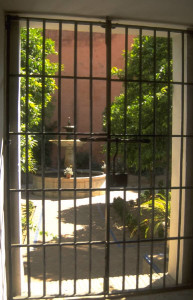 Sometimes parts of the body corporate common property are allocated to specific lot owners as exclusive use. If exclusive use allocations are made they must be recorded and then the allocation becomes, well, for the exclusive use of that lot owner.
Basically an exclusive use area becomes an extension of the lot and the lot owner will have complete control and responsibility for it, notwithstanding the area is still a part of the common property.
Finding Exclusive Use Allocations
In most cases there will be a bylaw contained in the CMS that governs the allocation of exclusive use and sets out rules for its use and care. Schedule E of the CMS will then set out the actual allocation to each lot. Finally the Plan of Exclusive Use will be included at the back of the CMS showing actual physical location.
Just because there are no exclusive use allocations contained in schedule E of the CMS doesn't necessarily mean that there are no exclusive use allocations made. Other options for exclusive use allocations are:
Older buildings registered prior to 1997 may have had exclusive use registered in Notification of Change of by-laws.
Exclusive use allocations can be contained solely within a by-law. For instance the by-law may say something like "… each lot owner has the right to car space marked with the same number as the unit …" or other words that effectively allocate the space in an identifiable way.
Exclusive use can also be recorded on a title – a common example of this is a balcony in an apartment building or a carport in a gated community, both of which are usually shown on the plan of each actual lot.
For the most part though, exclusive use allocations will be allocated through the by-laws and schedule E of the CMS.
How are exclusive use allocations made
All original allocations of exclusive use, if any, are made by the original owner – ie the developer. Indeed the allocations of exclusive use directly affect the value of the lot. For instance a lot with two car spaces allocated has more value than a comparable lot with only one car space.
Allocations can also be changed by agreement between lot owners. For instance, say two lot owners decide they wish to swap car spaces. A new CMS can be recorded that shows that reallocation.
Otherwise, changing exclusive use allocations can only be done by a resolution without dissent recorded at a general meeting.
Examples of common exclusive use allocations
Car spaces
Storage spaces
Courtyards
Balconies
Roof top access
Lift foyers eg only those who live on floor 5 may access level 5
There may be some areas of a body corporate that are only available to some lot owners. The area would likely be allocated as exclusive use to those lots only, and further, the cost of maintaining that area would likely be charged to only those lot owners who have access as a separate levy.
Examples of this sort of arrangement are:
Home offices 

Exclusive garden areas
Exclusive pool areas
Marina berths are occasionally allocated as exclusive use but are more often treated differently because of their inherent differences.