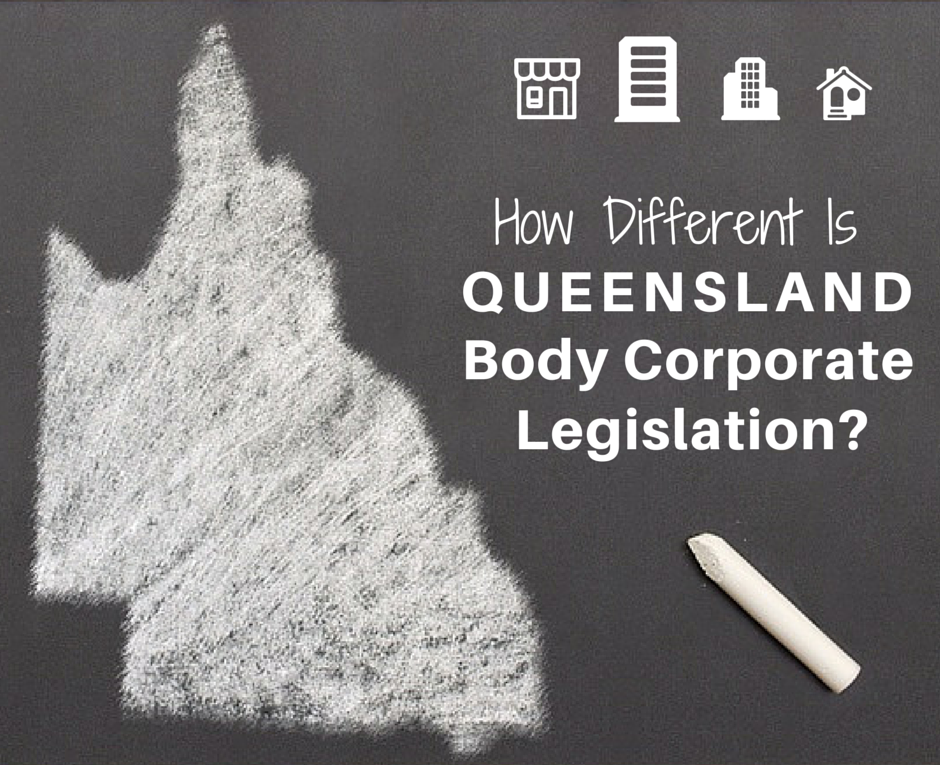 I write about Queensland body corporate legislation, which is not too hard to figure out since that's where I live. Plus I rather give it away with the great big banner on my website saying "I write about QLD legislation".
That said, people from a lot more places than Queensland read this website. When you consider the nifty Geo stats from Google Analytics after Australia the next widest readership is USA followed by New Zealand, South Africa and India.
People from all over Australia and the world buy real estate here in sunny Queensland. And then they have the same problems and look for the same solutions.
But how different is it really? If you own a unit in Melbourne and another in Brisbane how different is the body corporate legislation going to be?
My personal expertise is in Queensland legislation, however, I live on the border with NSW and I've been privileged to search many "foreign" schemes in my career.
This article is a simple comparison of NSW and Qld body corporate legislation to highlight the differences owners can expect to see between the two states.
Overall Intents of Different Body Corporate Legislation
Queensland body corporate legislation is aimed at transparency and fairness.
It's aimed at making sure all the lot owners rights are adequately protected whilst giving owners a framework for dealing with and reporting on their joint asset.
New South Wales legislation is aimed at transparency and fairness as well.
And most likely legislation in Victorian, South Australian and the rest of Australia. The overriding principles of strata or body corporate legislation are not going to change.
The focus will still be on making sure that costs are shared fairly, that management happens smoothly and with the minimum of interference and that every lot owner and resident is getting a fair squeeze of the sauce bottle.
There are some specific differences in how that's achieved, which I'll get into, but first let's talk terminology.
Different Terms, Different Body Corporate Legislation
The biggest issue out-of-towners will face is the different terminology utilised by different states. Some examples:
Strata Plan vs Community Title Scheme
This one is particularly confusing because of the processes of strata titling and community titling.
Simply put … strata titling is the process of subdividing upwards and community titling is the process of subdividing outwards.
An apartment building is strata titled.
A gated community is community titled.
There you go, a nice, simple definition. It's a shame it's so misleading.
You see in Queensland all body corporates are referred to as Community Title Schemes, whatever their actual configuration.
It's right there in the name.
The CTS in any scheme name, for instance, Body Corporate for Chevron Renaissance CTS 30946, is actually Community Title Scheme.
NSW by contrast refers to all schemes, whether they're strata or community titled, as Strata Plans. That's because in NSW strata schemes are registered under a Strata Plan.
Effectively – strata plan or community title scheme – they're the same thing.
Body Corporate vs Owners Corporation
A body corporate or owner's corporation is also essentially the same thing.
As discussed above Queensland schemes are called "Body Corporate <name> CTS <number>" or naturally shortened to body corporate.
In New South Wales the schemes are referred to as Owners Corporations. I'm not altogether sure why (let me know if you do!) but possibly in reference to the corporation system that used to dominate prior to strata titling.
So whether you use the term body corporate or owner's corporation you're referring to the jointly owned entity that holds the common property on behalf of its owners.
The key differences in Queensland Body Corporate Legislation
Body corporate legislation has the same intent from state to state, and the terminology, though different, is also referring to the same things. So what are the differences?
There are a few key areas that might confuse those from NSW, or vice versa and they broadly relate to:
Management rights
Community Management Statements
Management Rights
Management rights refers to the holder of the Caretaking and Letting Agreements. NSW also has management rights and in similar fashion to QLD but with one key difference; length of term.
In Queensland it's possible to enter into a Caretaking and Letting Agreement for an accommodation module building for 25 years.
In NSW management rights terms across all schemes are limited to 10 years.
The difference is a quite staggering amount of money and that has allowed the Queensland Management Rights industry, holders and traders of these contracts, to flourish and become significant stakeholders in the QLD body corporate industry.
Community Management Statements
The most significant difference between NSW and QLD body corporate legislation is the Community Management Statement (CMS).
In NSW a strata plan is registered and that generates a Certificate of Title. The title holds all the information about the scheme including unit entitlements and by-laws.
Changes to anything registered in the Certificate of Title will generate a revision to the title. Getting a complete snapshot of the building requires the title and all revisions be reviewed.
Community Management Statements have all the same information as a Certificate of Title, with some added extras. When changes are made the previous CMS becomes obsolete. To get a snapshot of a QLD scheme get a copy of the current CMS.
Other than the way they're registered the other differences in Community Management statements are significant. They relate to:
Regulation modules
Schedule of lot entitlements
Regulation modules
A regulation module is … well exactly what it says, different regulations that apply to different types of buildings to address their differing levels of needs.
For instance a commercial precinct has different needs than a residential scheme. And a residential scheme with predominantly owner occupiers has different needs than one with mostly investors.
Each regulation module tries to reflect those needs with different rules, sometimes even successfully.
I don't know of any comparison to the regulation module system in NSW.
Schedule of Lot Entitlements vs Unit Entitlements
In NSW an owner's corporation is registered with unit entitlements. Each lot is allocated a "share" of the assets and costs of the scheme via the unit entitlements.
For instance if your entitlements was 1 out of an aggregate of 5 then you own 1/5 of the common property and are liable for 1/5 of the costs of upkeep.
Queensland schedule of lot entitlements differs in that your share of the assets and liability for costs are separated. A schedule of lot entitlements includes contribution lot entitlements and interest lot entitlements.
Contribution lot entitlements are your share of the costs.
Interest lot entitlements are your share of the assets.
The two are completely independent.
It might sound unnecessarily complicated but it really does give a more nuanced view to the notion of costs vs holdings.
For instance say a building had a two bedroom unit on the first floor and substantially the same two bedroom unit on floor 32. Which is worth more? Logic would suggest the unit higher up.
But, the two units are substantially the same. Why should the unit higher up pay more for upkeep of the scheme when they're essentially costing the same.
By setting the interest entitlement higher it can reflect the capital expenditure on the 32nd floor whilst still maintaining the equality in contributing to costs that legislation demands.
It looks something like this:
| | | |
| --- | --- | --- |
| Lot | Contribution Entitlement | Interest Entitlement |
| First floor Lot | 100 | 90 |
| 32nd floor Lot | 100 | 120 |
It's this mechanism that allows things like granite bench tops and high end appliances to be accounted in the value of a property whilst capping the costs.
Different Body Corporate Processes
For the most part the way a NSW Owners Corporation operates is very similar to a QLD body corporate.
They both have by-laws, issue and collect levies and hold general meetings where Committees are elected who then get on with the business of running the scheme, with of course their employed contractors.
Although they're doing substantially the same things the processes can be quite different.
One area where NSW and QLD differ completely is the registration of new schemes.
In NSW there is an Initial Period between the registration of a Strata Plan and the transfer of ownership of 1/3 the total aggregate unit entitlements.
Until the transfer is complete the developer is responsible for meeting the costs of the scheme and there are strict rules about what can be done prior to the first AGM which is held when that magic 1/3 of the scheme is sold.
Those restrictions include not changing by-laws, not creating easements or otherwise altering the common property.
QLD is very different.
When a new body corporate is registered the first thing that happens is a general meeting is held where levies are issued and major business enacted.
That major business may be creating easements, altering by-laws or subdividing or otherwise changing the common property, essentially everything that NSW legislation seeks to avoid.
In QLD the developer, or Original Owner, is the owner of all the lots so they have all the votes. They can therefore do anything they want, within the bounds of legislation.
Conclusion
Did you know in Victoria it's possible to have a zero sum sinking fund balance? The body corporate can elect not to collect funds for capital works.
When I heart that it blew my mind. It is completely contradictory to every rule QLD and NSW has about sinking funds.
That's another example of a fundamental difference in legislation. They are few and far between.
Don't misunderstand, there are hundreds of differences state to state but unless you're getting involved in the Committee it's not going to have a lot of impact.
If you are considering investing in Queensland, or NSW or anywhere else for that matter, don't let the differences put you off. The overriding factors, fairness and transparency, will remain consistent and the rest you deal with as it comes up, pretty much the same as if you're investing in a scheme in your home state.
If you're knowledgeable about NSW legislation please feel free to correct any errors I've made or highlight differences I've left out. People are investing across borders and need to know what to keep an eye out for.