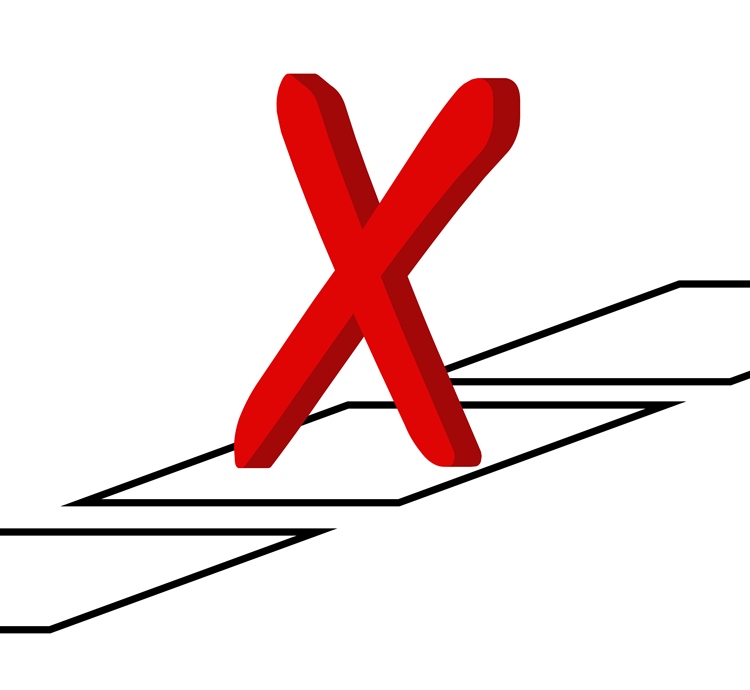 I often act as returning officer for body corporates. A returning officer is an impartial third party who acts as referee in validating and opening body corporate secret ballots. Usually those matters relate to Management Rights or election of committee.
I did a job the other day where the outcome of the vote hinged on my decision. I ruled a secret ballot invalid and the motion was lost, even though the lot owner clearly voted in favour of the motion passing.
The vote was invalidated because the lot owner was identified on the voting paper.
Body corporate secret ballots and votes are held to allow lot owners to vote as their conscience dictates without influence or feedback. Simply put everyone gets to vote without anyone else knowing how they voted. It's a simple yet powerful idea.
Identifying yourself on the voting paper makes a mockery of that idea.
Some people argue, "I don't care if others know how I vote". But that's not the point.
The point is the vote is without influence or feedback. Each lot owner makes their decision and that decision remains unknown to everyone. The vote is not influenced in any way, and future votes are not influenced either.
The Process for Body Corporate Secret Ballots
There's a process to secret voting, a process that must be followed in order to make your vote valid.
Every Notice of Meeting where a secret vote is held will contain instructions on how to complete the vote validly. Regardless of that almost every secret vote has some votes that are ruled invalid.
In our fast paced world I think errors occur because of a case of Tl;dr (too long; didn't read).
With that in mind I've created a simple, visual guide to completing, validating and returning your secret vote.
Step 1: Complete your voting paper
You may complete your vote in any way that clearly shows how you've voted. If there are multiple motions you may vote for only those motions that you wish to vote for.
If you make a mistake, or change your mind, you may cross out your vote and choose another. If need be you may even write your vote on the paper.
If you do write on the voting paper do not sign the change or make an explanation or in any way write anything that may be able to be used to identify you.
Whether or not the vote is valid is decided at the meeting by the returning officer, usually very quickly, and anything you've write on the voting paper will increase the chances the vote is declared invalid.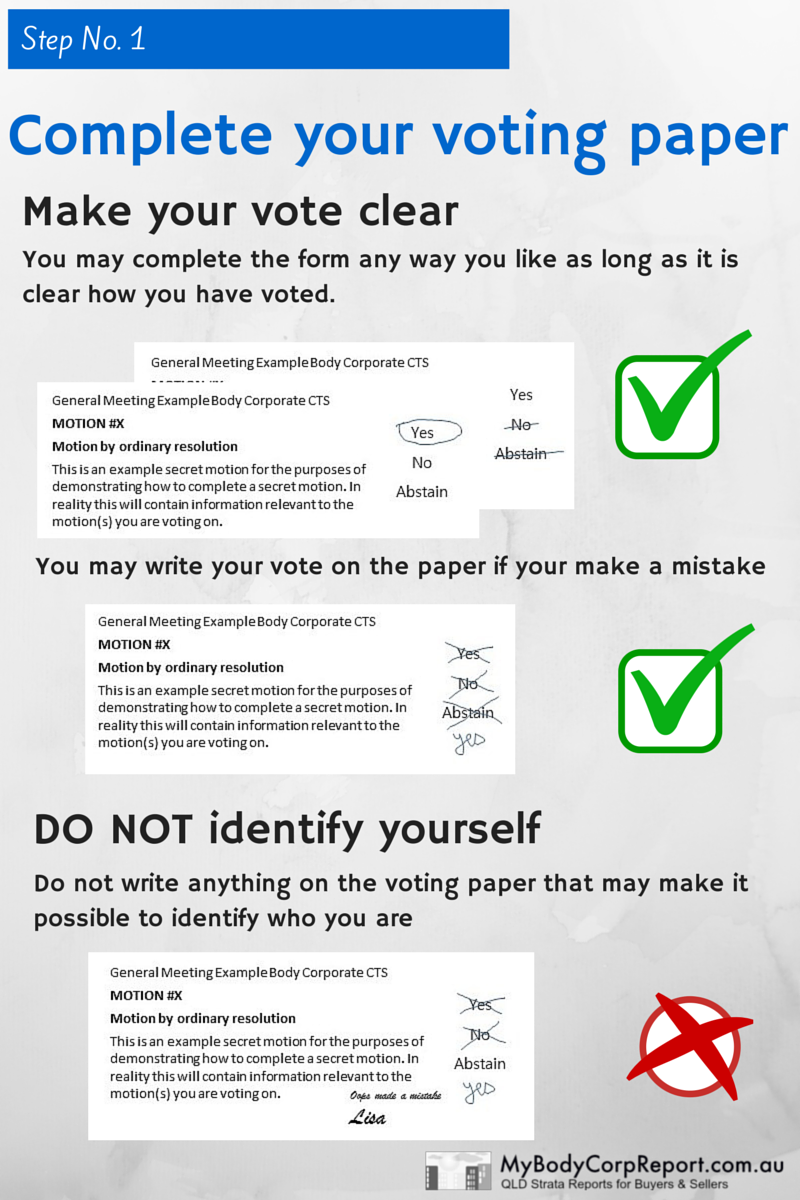 Step 2: Verify your right to vote
Once the voting paper is complete it should be inserted into the verification envelope.
You must verify your right to vote on the  envelope by completing all the details in full.
One vote may be accepted from each lot, and each vote that is accepted must be made by a valid lot owner with the right to vote. Your right to vote may be queried if:
you have outstanding levies owing (if you don't pay your levies by the due date you are not eligible to vote at meetings)
the lot owner is a company and you have not completed a Corporate Nominee form
you are voting with an Enduring Power of Attorney but have not notified the body corporate in advance
you are voting on behalf of a deceased estate but have not notified the body corporate in advance
Before the vote is counted each envelope is checked. If the details on the envelope don't match the information the Returning Officer has the vote is invalid and not counted.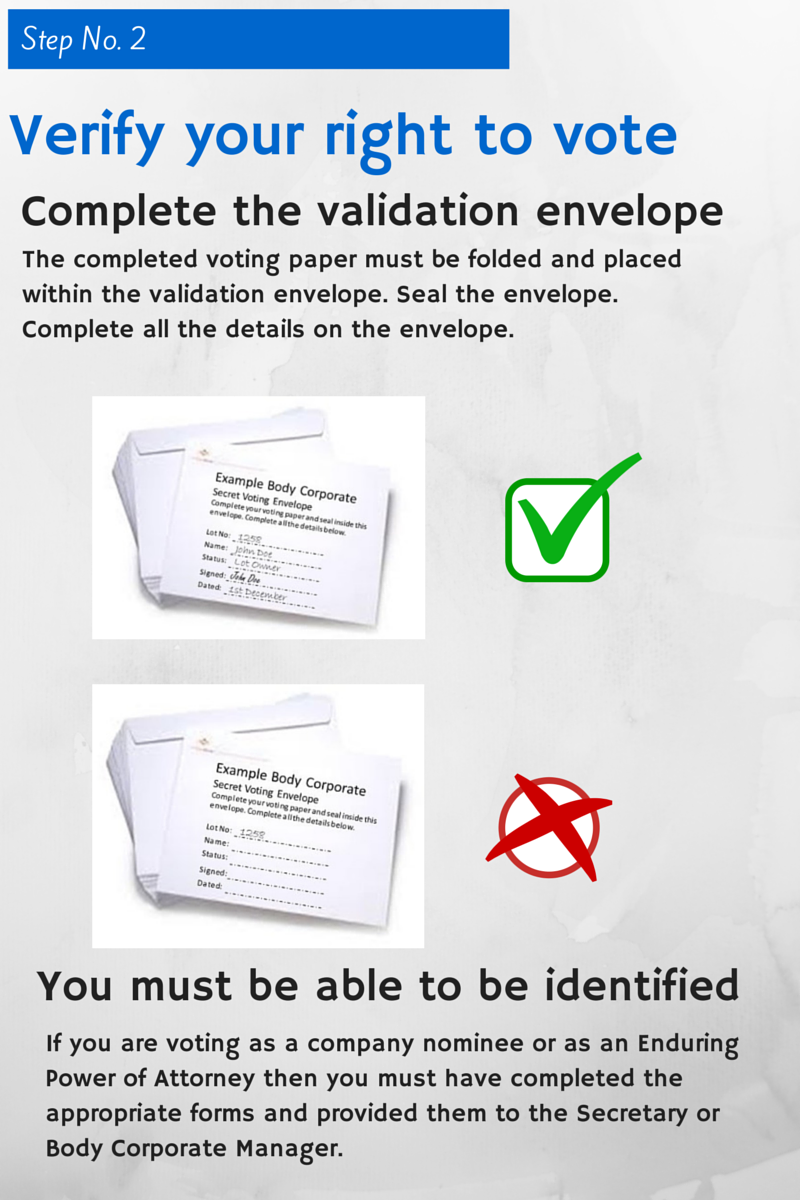 Step 3: Submit to the Returning Officer
Once your vote is made and your right to vote verified you must submit your secret vote to the Returning Officer.
You may do that by posting the completed envelope and vote directly to the Returning Officer. Most body corporates managers will include a stamped, addressed envelope for just this purpose.
If you do not post your secret ballot then your only other option is to attend the meeting and personally hand the vote directly to the Returning Officer. DO NOT give the vote to someone else to hand in. Votes can only be accepted from lot owners, and, if you do hand the envelope to someone else and they deliver to the Returning Officer it's likely your vote will be invalidated and possibly theirs.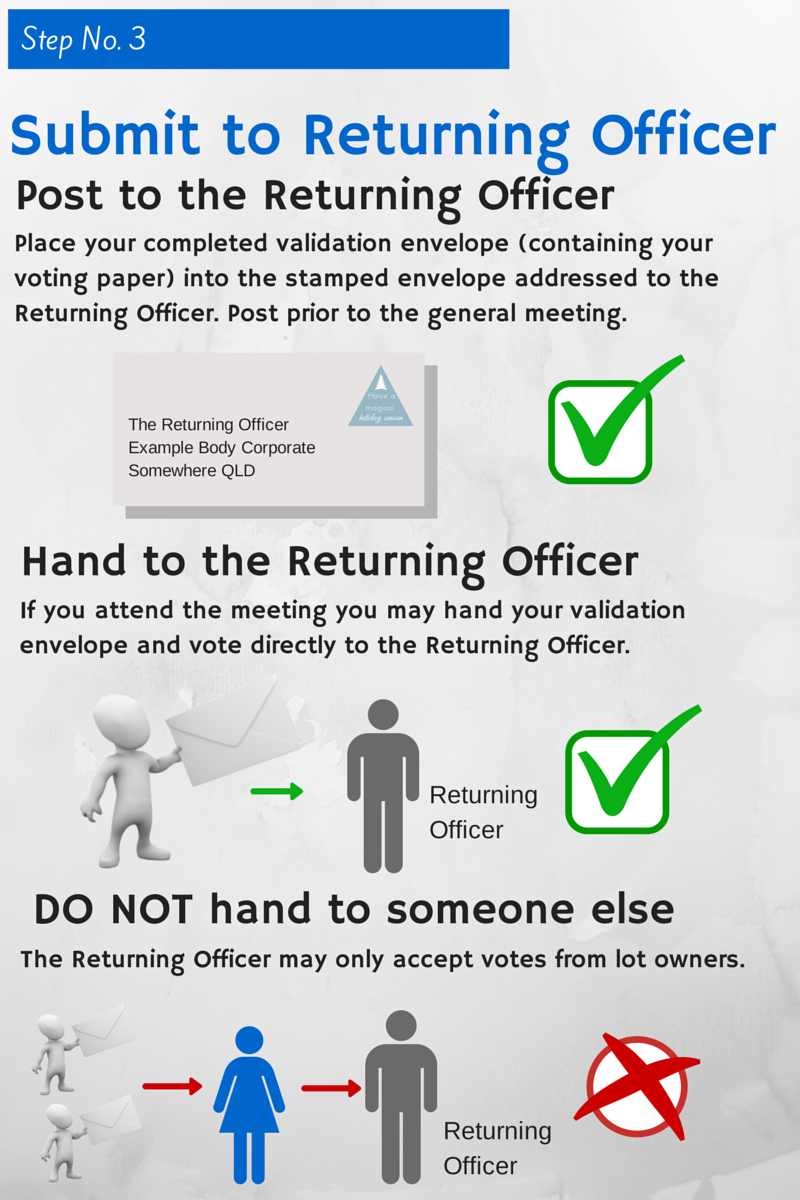 Why are the body corporate secret ballot rules so complex?
Remember when we talk about body corporates we're talking about peoples homes, and emotions can, and often do, run really high. In those situations sometimes people have been tempted to … stack the vote shall we say, to get their own way.
The rules regarding secret ballots have evolved over time to erase as much inconsistency and possible loop holes as possible. A secret vote or ballot is just that; secret, meaning not influenced in any way by how others have voted.
Think of it as chain of evidence. Your vote should come directly from you to the Returning Officer, who then verifies your right to vote before opening the valid votes, at the general meeting in front of everyone, and then your vote becomes unrecognisable one from the next.
A vote that is not completed in compliance of each of the three steps will be invalidated and not counted.
Do it right and make your vote count.
Having a Secret Vote?
If your body corporate is having a secret vote then use please help yourself to a copy of the full Infographic – Make Your Secret Vote Count.