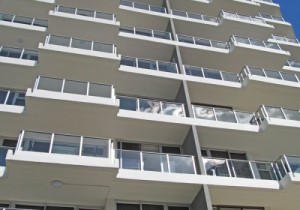 Say you live in a body corporate, an apartment building like the one pictured here.
Who do you think vacuums the carpet? Who cleans the pool? Who changes the light bulbs?
There are hundreds of small tasks involved in maintaining the common property of a building and all those tasks are the responsibility of the body corporate.
Some body corporates will hire cleaners and gardeners and pool people to take care of these tasks with the Committee or Body Corporate Manager overseeing each task.
Others simply elect to enter into a Caretaking Agreement and appoint one person, typically called the building manager or onsite manager, to take care of all those tasks.
In addition to the caretaking agreement some body corporates enter into a Letting Agreement with the same contractor. This gives the entity named in the agreement the exclusive right to run a letting business on the body corporate common property.
Collectively the Caretaking and Letting agreements are called Management Rights.
So We've Hired A Contractor?
Essentially, yes, a contractor has been hired for a specific term to carry out specific tasks for which a specific remuneration will be paid. Caretaking agreements though are a bit more complex than a standard, "we've hired you" gig.
Firstly the term can be anything from one to 25 years, depending on the regulation module of the body corporate.
Secondly the remuneration can be substantial. I have seen annual fees as low as $12,000 but most are quite a bit more. Very large buildings may pay up to a $1 million per annum to their building manager.
It's a considerable amount of money to guarantee for a long span of years.
And that doesn't even take into consideration the fees that can be made directly from lot owners through the letting business.
Management rights, in Queensland particularly, are very valuable and consequently the Caretaking and Letting contracts under which they operate tend to be very complex.
Lot Owners & Management Rights
Although the building manager is technically a body corporate "employee" it's important to keep a few things in mind in dealing with them. Here a few frequently asked questions about the building manager that will help you get along.
Can I tell the building manager what to do? 
Although the building manager is a contractor they work directly for the committee. In fact they are non-voting committee members. Unless you're on the committee you cannot instruct the building manager at all, and if you are, you will need to work within the scope of the written agreements and legislation.
Can the building manager tell me what to do?
Most building managers will be responsible for ensuring that all residents adhere to the by-laws of the body corporate. In fact they are the first line of resolution when a breach happens. Don't be surprised if you get asked to rectify a situation by the building manager.
Can they enter my lot?
The body corporate has very limited right of entry to lots, and these will be spelled out in the by-laws. For the most part the building manager, r committee for that matter, may only enter your lot in very particular set of circumstances, such as imminent threat, or to address a repair issue. Even then notice should have been given.
Different rights of entry may occur if the building manager is hired as your letting agent and the contract appointing them should state those rights.
Do all buildings have Management Rights?
No, not all buildings have Management Rights. Caretaking and Letting Agreements are typically entered into by the developer when a building is first registered as it creates another valuable asset for them to sell. If the body corporate later decides that they no longer wish to have a building manager they may either wait for the contract to expire or negotiate a surrender.
Do I pay more levies if we do have Management Rights?
Yes, definitely. In those body corporates with building managers the largest expenditure will likely be to the manager.
Which is not to suggest that getting rid of the manager would automatically reduce the levies. Someone does need to vacuum the lift lobbies or stairwells, maintain the pool and grounds and so on. Individual contracts can often add up to as much, if not more than a building manager.
Does the remuneration change?
Most contracts have a anniversary date where the amount payable is increased usually by CPI or a set amount. Each year on the anniversary the fee payable will be increased.
Further disputes do arise regarding levels of remuneration and can be pursued through the court system.
If I let my unit, do I have to use the on-site manager as letting agent?
No. The body corporate cannot make any arrangements between a lot owner and another party. Every lot owner is free to contract with whomever they choose to undertake letting services. The Letting Agreement is a right to operate a letting/real estate business from within the body corporate only.
* * * * * * *
Do you have a question about management rights? If so, I'd love to hear it. Leave a comment below.