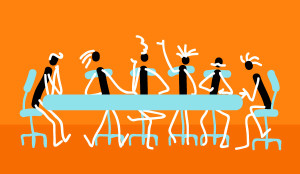 Every year each body corporate is required to hold an Annual General Meeting (AGM) within three (3) months of the end of financial year.
Of course a lot of body corporates do go over that three month limit due to all sorts of reasons. In that case the committee are expected to apply to the Commissioner of Body Corporate for an adjudicators order granting them permission to hold their meeting late.
Meetings in body corporates are heavily regulated and none more so than the AGM. In fact there is a specific "formula" that can and should be followed. A broad brushstrokes outline is as follows:
Before End Of Financial Year
Prior to the end of financial year correspondence should be sent by the body corporate to all lot owners asking for nominations for committee and any lot owner motions to be put forward for consideration at the AGM.
Motions from lot owners will be added to the agenda for the AGM exactly – as in word for word – as they are submitted.
Nominations and motion submissions will close at the end of financial year.
After End Of Financial Year, Prior To Issuing Notice Of Meeting
At the end of each financial year every body corporate must prepare financial statements for presentation at the AGM.
If the lot owners resolved to audit the accounts at the last AGM then the accounts must be audited by the nominated auditor.
A budget committee meeting is held where matters to be addressed in the next financial year are discussed and a final budget resolved.
A committee resolution is passed to convene an AGM on a specified date and time.
If any major work is proposed then at least two, sometimes three, quotes for the work must be obtained.
All resolutions for consideration at the AGM are drafted as motions  (motions can only be considered at that meeting if they are included on the agenda or within legislation).
Notice of Annual General Meeting
A notice of meeting is prepared and sent to every lot owner a minimum of three weeks prior to the meeting. The notice must include:
The agenda
A voting paper
Corporate nominee form for company owners to nominate a person as voter
A proxy form
Explanatory schedule (if any motion requires further explanation)
Secret ballot voting papers (if a secret ballot is to be held)
Other documents relating to the last financial year including: disclosure current insurance details, copy of previous years financial statements and audit report if obtained, Register of Reserved Issues.
At The Meeting
NOTE: Only lot owners who have paid levies in full are eligible to vote at general meetings.
An AGM can only proceed if a Quorum is reached at the time and place of the meeting.
A quorum is votes from 25% of eligible lot owners with a minimum of at least two voters actually present for body corporates with more than three lots. Votes can be:
completed valid voting papers
completed proxy forms with another voter present
voted personally at the meeting
If a quorum is not available after 30 minutes the meeting is adjourned for seven (7) days. After the seven days the meeting will proceed regardless of whether a quorum is represented, so long as some votes are received.
NOTE: Complete and return your voting papers promptly; adjourned meetings cost body corporates hundreds of dollars in extra fees.
If a quorum is present the meeting proceeds with the Chairperson chairing the meeting and votes are tallied with motions either passed or failed.
Committee members are declared open at the end of the meeting and voting commences for the new committee. If only one nomination per position is received then that person is considered elected without voting, if another nomination is not received at the meeting.
After The Meeting
Every lot owner must be sent a copy of the AGM minutes.
Extraordinary General Meetings
Extraordinary General Meetings (EGM) can be held at any time the committee deem necessary. Although they don't follow exactly the same time line as the AGM they will still have the main elements such as:
Motion by the committee to call an EGM
Notice of meeting sent to all lot owners
Meeting quorum requirements
Key Points To Takeaway
There is a couple of key points that I want you to take away from this timeline:
there is a specific set of actions that the body corporate must undertake
every lot owner must receive a notice of meeting
do fill in and return your voting paper promptly both to make your vote count and to eliminate the necessity for costly adjournments
For more information about general meetings refer to Office of Commissioner Body Corporate fact sheet General Meetings.