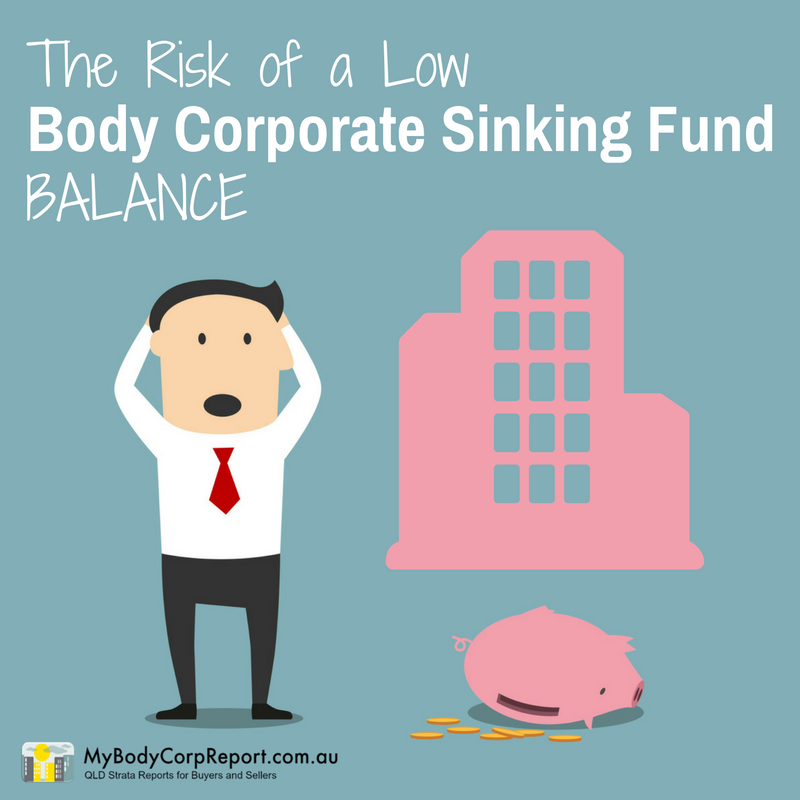 How much is in the body corporate sinking fund? This is the most common question when buying a unit.
Unfortunately the balance is only half the story. The more telling part is how much should be in the body corporate sinking fund?
This article is about how a body corporate sinking fund is accumulated, where the process goes pear-shaped and the implications for both owners and buyers.
The purpose of a Sinking Fund
The purpose of a body corporate sinking fund is to collect a small amount toward long term upkeep from everyone who has ever owned a lot.
The goal is to have funds available for major upkeep works, like painting or lift refurbishment, as and when they're required. If funds are available it increases the chances the works will get done which extends the life of the building.
The concept is to have a set, gently upward trending levy, year in year out, so owners can budget with confidence and the body corporate can fund works as they're required. The major fluctuations happen within the sinking fund balance.
Where Do Special Levies Fit In?
The day to day costs of running the scheme are funded from the Administrative Fund and capital works from the Sinking Fund.
All expenditure is expected to be carefully planned and budgeted: the administration cost from year to year and capital cost over a continuous ten year time horizon.
With the best of intentions it's impossible to forecast for every situation that might arise. Anything that isn't included in the annual forecasts is considered "unbudgeted works".
Unbudgeted works should be financed by raising a special levy.
It's quite simple and clear cut: If you didn't plan it, don't do it. If you go ahead and do it anyway then raise additional funds to pay for it.
Where Sinking Fund Accumulation Goes Pear Shaped
There are two main ways that body corporate sinking fund accumulation gets distorted:
Accumulated funds are spent on unbudgeted works;
Sinking funds are incorrectly collected.
Accumulated funds are spent on unbudgeted works
When an unbudgeted situation arises the body corporate will often rectify the problem and fund the works from existing sinking funds.
There are many valid reasons why the works might be funded this way, despite the fact it's contrary to legislation.
Speed is a key factor. It takes time to raise a special levy and sometimes works might be urgent.
Relative cost is another issue. It can be cheaper to just do it and pay with available funds than to hold an EGM and issue a special levy. Strata meetings can be pricey.
In most cases the works, though unbudgeted, can easily be absorbed by the scheme with no ill effects to speak of.
In practice all of that is fine. Right up until it becomes a problem.
For instance, say the scheme spent 10% of the fund five years ago to pay for unbudgeted works and made no effort to recoup. Now the scheme finds itself with 15% less than is required to undertake scheduled works. That's the power of accumulation. Deficits accumulate too.
If unbudgeted funds are taken from the sinking fund some sort of allowance must be made. That can be done by replacing the funds, delaying works or reducing the cost of works.
Sinking Funds Are Not Collected Correctly
The key purpose of a Sinking Fund Forecast (SFF) is to give the body corporate clues as to what sinking fund levies to collect. Even with a forecast sinking fund levies are a 'best guess'.
Bodies corporate are required to have a forecast but they're not required to follow it. When sinking funds are incorrectly collected essentially strata schemes ignore their SFF and collect levies based on what they believe the owners will be willing to pay.
Consequently it is common to see a forecast estimating a levy of $500 per lot entitlement with only $400 collected.
Its pretty simple; If you don't accumulate the projected levies then the projected balance won't be obtained and funds won't be available when works are required.
Supercharge Problems by Combining Causes
In practice it is relatively uncommon to see buildings under collect their sinking funds for long periods of time. It's something that happens most often in smaller buildings where owner apathy or poor management is an issue.
What happens most commonly is that unbugeted works are paid repeatedly from the sinking fund yet the SFF projections for accumulation are still being followed. It's effectively still under collection since no effort has been made to recoup previously spent funds.
Under collection and unbudgeted works together will lead to negative sinking funds quite quickly, especially when combined with apathy.
Body Corporate Sinking Fund Levy Corrections
A levy correction is a sharp change in annual sinking fund levies other than for CPI.
Corrections can be upwards or downwards.
Downwards Levy Correction
Some bodies corporate collect sinking fund levies that are too high. They achieve their capital accumulation goals too quickly and find themselves with extra funds.
Annual sinking fund levies need to be corrected downwards. So as an example, if the levy was $2,000 per annum it is lowered to $1,000 per annum moving forward and will trend upwards again from there.
Upwards Levy Correction
It is far more common for bodies corporate to not collect enough sinking fund levies over the timeframes required.
The result is a major deficit in funds required and will eventually require a correction upwards.
An example would be annual levies of $1,000 per lot entitlement doubling to $2,000 per lot entitlement per annum.
Upward corrections often go hand in hand with special levies. Owners often object quite strenuously to large increases in levies so necessary decisions are put off, sometimes until the need for funds becomes critical. The scheme finds itself needing cash immediately (special levy) plus an ongoing increase (levy correction).
Why levy corrections Are An Issue
It's pretty hard to see how a levy correction downwards would be a problem for anyone. Indeed, if you're a buyer and your chosen scheme has had a recent downward levy correction it's a cause for celebration.
Of course if you're the seller its' not such good news. What's happened is you've paid more than your fair share of future capital works. When you sell you walk away from that. Not such a nice place to be.
By contrast it's easy to see why levy corrections upwards are not a good thing.
For a start it's going to put off buyers. Nothing say's don't buy me like a sinking fund in dire need of cash injection.
More importantly increasing the levy, or indeed issuing a special levy, is only the first step. The next step is to collect the funds and with large amounts that's not always easy.
Large increases in levies lead to levies in arrears and additional costs to the scheme for collection. Additional costs means additional levies and further delays, which, you guessed it, leads to additional costs.
It can get to a point where everything becomes critical: the delays and the issues they cause become urgent and cash is needed right now! Owners end up feeling like they're bleeding money and there is no choice but to continue through the process because the chance of attracting a buyer is slim.
Upward correction of sinking fund levies is a 'red flag' as it often goes hand in hand with a number of other issues like ongoing poor maintenance, building defects or dilapidation and poor financial management.
Conclusion
The body corporate sinking fund balance is part of your lot's value. A sinking fund balance that is too low is a detriment for buyers. With good reason. It is an indicator of a risk that owners may be asked to contribute additional funds over and above the current levies.
NOTE: The question I haven't answered here is "how do I tell if the sinking fund balance is too low?"
I did start writing the answer and it got … technical.
If you're comfortable with and can access body corporate documents look out for another article in the next couple of weeks which will show you how to analyse your scheme sinking fund.