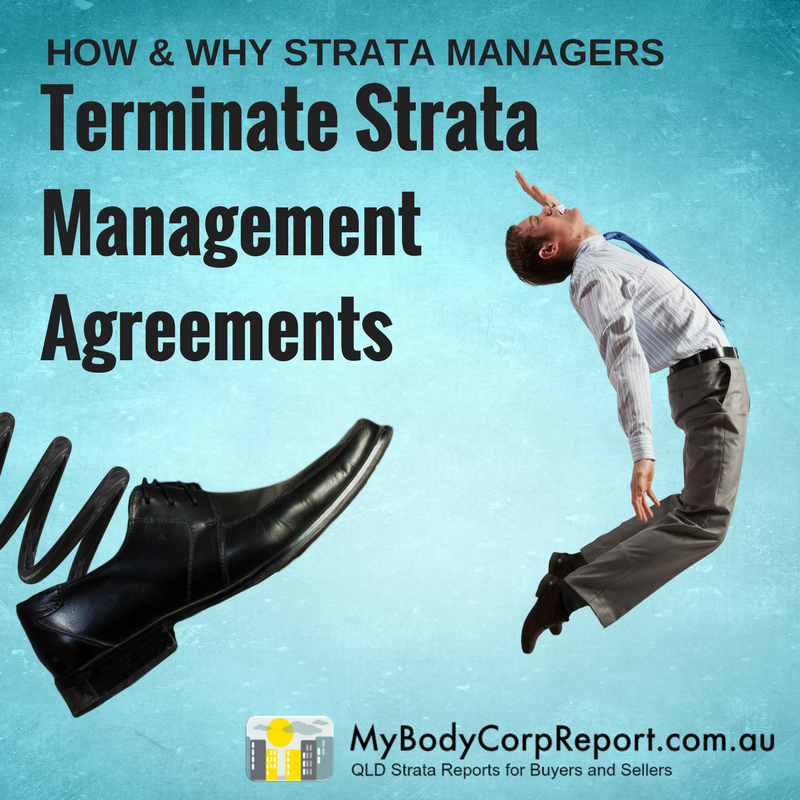 Strata managers terminate strata management agreements for a range of reasons, some to do with the business and some to do with the scheme.
There are many reasons why a Strata Manager might decide to part ways with a client, including:
The Committee members or lot owners are abusive, dismissive or otherwise disrespectful to the Strata Manager
The Committee members are making decisions contrary to the legislation
The Committee refuses to undertake necessary / compliance works
The Committee is failing to make any decisions at all
There is no Committee and consequently no leadership
The Strata Manager's business is moving in another direction (ie going all commercial, or all high-rise lots)
The strata scheme is a lot of work for a small amount of money
There are conflicts of interest between the Strata Manager and the Committee or lot owners
There are conflicts of personality
There have been staffing changes in the Strata Management firm and they can no longer service the client
The Strata Manager is selling / retiring / going broke
These are just some ideas of the top of my head but in reality there could be endless scenarios that could cause the Strata Manager to decide they no longer choose to work with a particular strata scheme.
How Strata Managers Terminate Strata Management Agreements
There are three key ways that Strata Managers end their agreements with a strata scheme:
The agreement expires and a new agreement is not submitted
The agreement is assigned to another firm
The agreement is terminated
The agreement expires and a new agreement is not submitted
The appointment of a strata manager must be made via an ordinary resolution at general meeting, must be in writing, and must be for a maximum of three years.
A Strata Manager seeking to end an arrangement with a strata scheme will simply refuse to submit another agreement. Its then left to committee to decide for themselves what they choose to do.
The current agreement expires and the records and funds of the strata scheme will be handed back to the Committee or the new Strata Manager if one has been appointed.
It's a simple, neat and elegant way to end the relationship.
The Agreement Is Assigned To Another Firm
Strata Management firms are businesses and they grow, evolve and shrink like any other business. Sometimes that may lead to a change in the way the business is structured.
For instance, many new businesses will take on any and all clients. As they grow and form relationships however they become more strategic about the clients they work with including developing a speciality.
That can mean some schemes, and sadly it is usually the smaller schemes, no longer fit with their business model.
However, the Administration Agreements are still current, and there is no basis for termination. The agreements must be honoured so the Strata Manager will simply sell those agreements to another Strata Manager.
The agreements are assigned to the new manager for the balance of their term.
The body corporate must agree to this assignment with a general meeting motion and it is possible for them to block the sale. Blocked sales lead to tension until the term expires. Most schemes simply agree to the assignment.
After that it's up to the new Strata Manager to perform to a standard that impresses the Committee enough they invite them to submit a new agreement when the current one expires.
The Agreement is terminated
All Administration Agreements will include terms and conditions for when either party may cancel the contract, usually based around the other party's behaviour, or lack of it, as the case may be.
Termination of an agreement is a serious matter.
It's also rare. Not because agreements don't get terminated, but because if either party is seeking to terminate the agreement you can reasonably assume there's a fair amount of bad blood, and people being people, if one party is seeking to leave the other party generally makes it as hard as possible to achieve.
For the most part the terms are short enough that it's easier to just ride the problems out until the contract simply expires.
If an Administrative Agreement is terminated, and it's not with mutual consent, it is a legal matter and should be discussed with the schemes Solicitor.
We've been fired: What do we do now?
If your Strata Manager has elected not to continue as your manager the first thing you need to do is take stock of why?
If your agreement has expired and the manager has no wish to renew it's important to ask why. It may not have anything to do with the scheme but, if it does, without addressing the issues they're likely to repeat.
If your agreement has been assigned there is little you can do except wait for the end of the agreement and then make your own choice of which manager to proceed with.
If your agreement has been terminated again consider why? Behaviours that led to the termination are likely to repeat. Also consider legal action if the split becomes acrimonious.
What Are The Next Steps?
If your strata manager fires you your next step is either take over the running yourself or find a new strata manager.
There are hundreds of Strata Managers all over Australia. Some are good, some are adequate, some are excellent and some you might be better off staying away from.
Finding the right fit can be challenging. There are two things you can do that will help enormously.
Firstly, get clear about what you want from your new strata manager including what services you want and what price you're prepared to pay. The clarity of your intention as a group will play a big part in the outcomes you receive.
Secondly, read the documentation. Any quote from a strata manager should be accompanied by an Administration Agreement. Read the agreement, cover to cover. If you're looking at multiple agreements try to compare terms. If there is anything you don't understand ask. And if there's anything you don't like negotiate. It the manager won't come to the party maybe they're not right for you.
What if we want to fire our Strata Manager?
Strata schemes end their agreements by:
Letting the term expire and appointing different management
Terminating the agreement
Letting the term expire is the easiest way to exit the relationship and it will give the scheme time to find a new manager.
Termination is more complex. The agreement must be terminated by ordinary resolution at general meeting. It is a contract however and simply agreeing to terminate may not be sufficient grounds to do so and legal wrangling may result. Even if the termination is in accordance with terms some managers drag their feet with transferring documents and funds to cause problems for the scheme.
Before taking action read the clauses relating to termination. Its also a good idea to find a new strata manager. Hopefully they can help you through the transition period for a seamless transfer.
Conclusion
If your Strata Manager fires you then take the time to assess what the issues are.  Changing Strata Managers is time consuming, expensive and challenging. If you fail to address the problem(s) that caused the change you might find yourself repeating future mistakes.