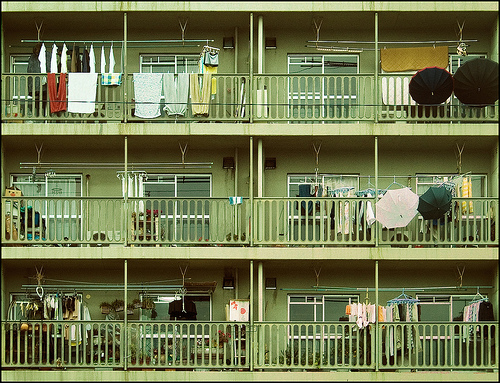 Buying a unit is different from buying a house.
The key difference is the ownership structure.
With a house, your lot is your lot and that's it.
With a unit the lot itself is only a part of the overall value of the unit.
As important is the common property of the body corporate within which the lot is contained.
So .. what is common property?
Picture an apartment building.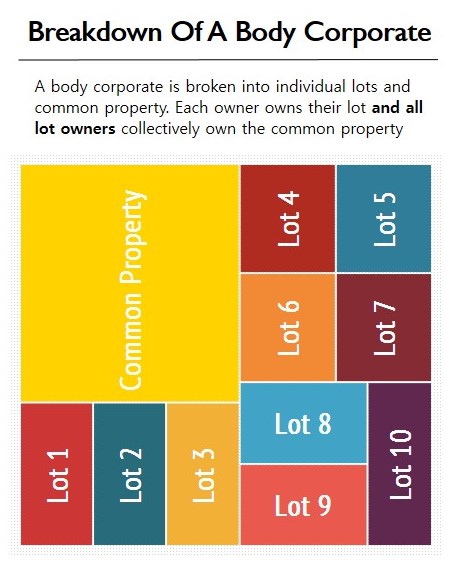 That building will be made up of several apartments.
How do people get to and from their apartments? There must be some sort of access point; a foyer, stairs or a lift, some way for residents to get to and from their homes.
The stairs, the lift or other access points are vital to all the lots within the building, but who "owns" those areas?
Those areas are common property.
And a body corporate, or owners corporate as it's sometimes called, is created expressly to hold and maintain the common property for the benefit of all the lot owners.
Examples of common property
Body corporates come in more shapes and sizes that just apartment buildings. The defining factor is shared ownership which can be accomplished over almost any sort of property.
And as body corporates come in many shapes and sizes, so too does common property.
The most common shared areas are:
stairways, lifts and foyers
basement car parking
gardens
pool areas
gyms
access roadways
infrastructure such as power, sewerage and water
joint walls (where half the wall is a lot and half is common property)
roofs
The common property of each body corporate is very individual. In Queensland defining common property is assisted by what type of plan the body corporate is registered under; Building Format Plan or Standard Format Plan. Different rules of defining common property will apply depending on your plan.
Who is responsible for common property?
One of the biggest issues that arises in body corporates is defining what is common property and what is a Lot.
It's a big deal because the body corporate (or all the lot owners combined) are responsible for common property and the lot owner is solely responsible for the lot.
It's much easier to fund 1/10th or 1/20th or 1/200th of a large problem that to fund it solely yourself. Conversely it's frustrating to pay 1/10th or 1/20th of the cost of a problem when that problem is manifesting itself in another lot.
Consequently arguments can and often do erupt.
To quantify what is common property for your scheme refer to your plan. If you have further questions discuss the matter with your Body Corporate Manager, the Committee, or the Office Commissioner Body Corporate. 
Common Property and Exclusive Use
The common property is often defined as "everything not contained within a lot". Sometimes though areas of the common property are allocated as exclusive use to a particular lot owner.
Exclusive use allocations must be recorded, either on the title itself or within the Community Management Statement. Once recorded that area becomes an extension of the lot it's allocated too. Other lot owners may not use the exclusive use area.
In most cases the lot owner will be required to maintain the exclusive use area, although it's important to note that the area does still remain common property. For instance, a penthouse lot owner may be granted exclusive use of the roof area, however, should a leak develop within the roof itself it would likely remain body corporate responsibility to repair (I say likely because every body corporate and circumstance is individual).
Why Common Property Is Important

Buying a unit is different to buying a house. Most units are part of body corporates and that comes with additional responsibilities and risks, not least of which is the communal nature of the investment and living conditions.
The common property is used as a vehicle to offset the risk and responsibility of the body corporate by providing additional value.
And that value can be significant.
Some examples of added value include:
location eg beach side or city centre
building security
resort style pool areas
tennis courts
on-site management
Quite simply the building or complex and it's facilities, it's common property, forms a substantial part of the attraction and therefore the value of any given unit
Of course all these "extras" must be financed by the lot owners jointly so it's a double edged sword.
It's particularly important if the common property or body corporate has developed substantial and expensive problems that will need to be rectified at the cost of a lot owner.
Which is exactly why savvy investors obtain a pre-purchase strata report; to make sure they know what they're buying into.