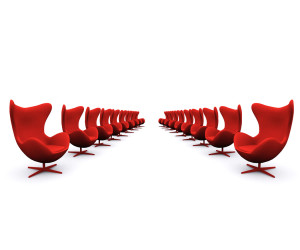 Every body corporate must hold an Annual General Meeting (AGM) within three (3) months of the end of financial year.
But what if you don't actually have any business going on at present?
There are plenty of body corporate's out there which are well managed and maintained and have few issues requiring works or owners input. Do they still need to hold an AGM?
Absolutely.
An AGM must be held every year and there is always going to be at least two items of business that require lot owners to vote:
issuing of levies for the next financial year
election of the committee
Statutory Motions At Annual General Meeting
Every body corporate must have an AGM and every AGM must include statutory motions to:
approve minutes of the last annual or extraordinary general meeting
present the previous year financial accounts (and auditors report if audited)
appoint an auditor for the next financial year, or alternatively, resolve not to audit accounts
adopt the administrative and sinking fund budgets for the financial year; and
fix contributions to be paid by owners for the next financial year
review insurance policies held by the body corporate for the year
elect a committee
ADOPT BUDGETS AND FIX CONTRIBUTIONS
A budget, a copy of which should be included in the Notice of Meeting, must be agreed at the AGM. The budget is basically a list of categories with estimations of how much the body corporate intends to spend. It's all summed up in a figure at the end and that's the total amount of outgoings to be considered.
The current account balances are then added, or subtracted, and the left over amount is how much is to be collected.
Converting the whole budget figure to levies is called fixing contributions. The full amounts are expressed as an amount per contribution lot entitlement per period.
The levies for each lot are then calculated by multiplying the lot entitlement by the contribution.
An example of how levies are expressed and calculated can be seen here.
What if you think the budget is too much?
If you, as a lot owner, think the budget is too much, or too little for that matter, you can propose a motion to change the budget at the AGM. However it can only be changed, either up or down, by 10%. The motion to change is voted on, and if everyone agrees, the budget is changed and then the meeting will vote on the changed amount.
If the majority lot owners decide the budget is unacceptable they can simply vote NO to the motion.
If a budget motion does not pass at an Annual General Meeting then an Extraordinary General Meeting will need to be called to set budgets. Budgets, and levies must always be set, even if the budget amount turns out to be zero.
TO AUDIT OR NOT TO AUDIT
There are always two motions at every AGM regarding audits:
to audit or not; and

if auditing, appointing an auditor.
These motions can cause a lot of confusion. The problems lie in the negative way the motion is presented. So rather than simply voting yes or no to an audit you're actually voting yes or no to not audit.
The motion is posed negatively because of the way the legislation is interpreted. Legislation states every body corporate must be audited. But, the legislation also acknowledges that the owners may not wish to pay for said audit. They then have the opportunity to over-rule the legislation by voting YES to not audit.
A resolution not to audit must be a special resolution. Choosing not to audit the accounts is a big step; financial mismanagement or even dishonesty happens, so more than a simple 50/50 majority  of those voting is required.
Other Motions
It is possible that an AGM will only have statutory motions on the agenda. Other motions can and usually do get added. Most of those motions will be proposed by the committee to facilitate the issues currently in progress with the body corporate.
However any lot owner can submit a motion.
Motions submitted by lot owners will be included in the AGM agenda and voting paper exactly as they are submitted by the owner. That means any spelling mistakes, gramatical errors and more importantly issues with the legislation or enforceability will be included.
For instance, a motion to "repair the front gate" would be ruled out of order unless accompanied by at least two quotes to undertake the work. A motion to "keep an eye on tenants" would be ruled out of order because it is unenforceable.
Wording of motions needs to be very particular. A motion to "look at reducing costs" might pass however it's very unclear how that would be implemented. A motion to "reduce the cost of garden maintenance by half in the next financial year by changing gardener" is much clearer and easy to both understand and carry out.
If you have an important motion that you would like the body corporate to consider it might be worth discussing with a solicitor to draft the motion.
Election of Committee
Once the vote is complete the current committee is deemed dismissed and voting for the new committee is counted and new committee elected.
The meeting is then closed. Minutes of the meeting are then sent to all lot owners within 14 days.