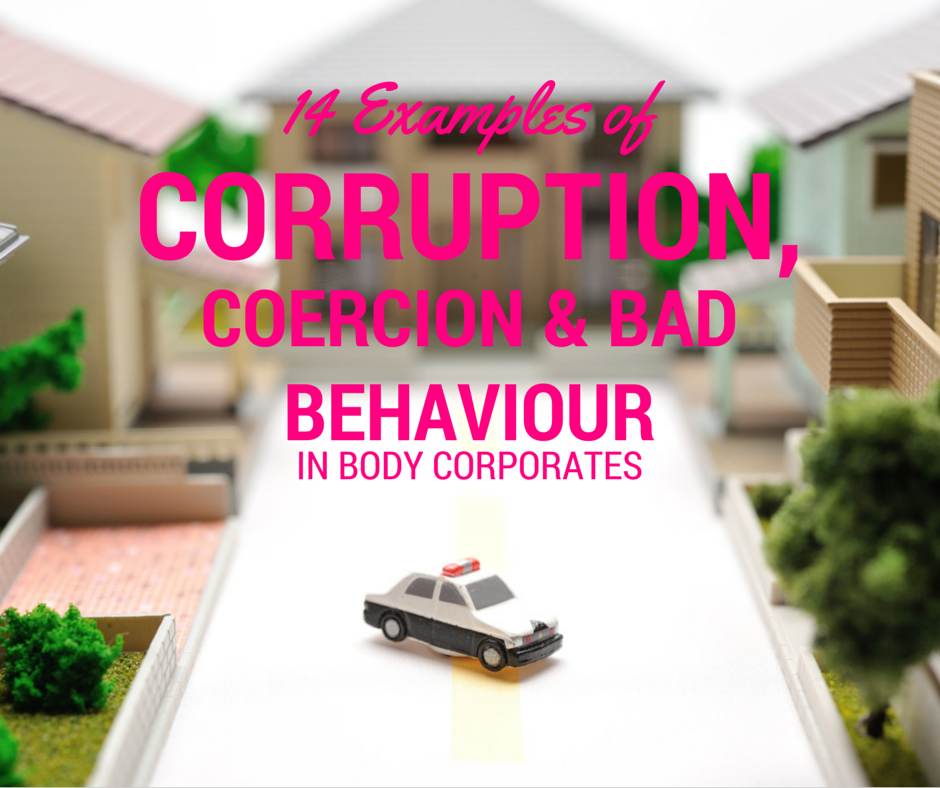 I know I spend a lot of time focussing on the negatives of body corporates, and clearly this article about corruption in body corporates is not going to be any different. I do have a purpose here though, I'm building a library of information to help people navigate occasionally murky body corporate waters.
To be fair, and to be clear, let me reiterate, most body corporates are boring.
They do what they need to, quickly, quietly with a minimum of fuss and enjoy the appreciation and good will of their lot owners.
Sometimes things do go pear shaped, lines get crossed and incorrect steps taken, and that's understandable as well. The body corporate industry in Queensland is this swirling morass of complex legislation and case law to be applied to entities where the decision makers are predominantly lay people.
Mistakes and bad calls do get made.
But, I believe, in the vast majority of those cases there is no intention to defraud or infringe on any persons rights, notwithstanding that may be the result achieved.
In most cases.
Sometimes though, the things that go on are just plain wrong.
The behaviour of residents and lot owners toward each other can be atrocious and coercion and intimidation are tools employed with reckless abandon. The processes intended to serve the many can get corrupted to benefit a few.
In short, corruption, coercion and general bad behaviour happen. Let's check out some examples.
Corruption in body corporates
Whether the problem originates from among the residents or from outside the scheme all the following are crimes and should be reported to the police.
1. Major crimes – there was a high profile case just recently on the Gold Coast when a woman fell to her death from a balcony, sadly a common enough occurrence in itself, but in this case the circumstances were considered to be "suspicious". Numerous drug sale and manufacture rings have also been found in unit buildings and complexes.
Major crimes happen in body corporates all the time, and crimes, along with accidents do have a large impact on the community, who are, hopefully, only peripherally involved.
2. Stolen property – a body corporate community is as vulnerable as any community to break-ins and other forms of thievery with the added complication that the security that keeps others out may very well be keeping the thief in!
Body corporates are about higher density, and with higher density comes more crimes of opportunity such as theft.
3. Vandalism – graffiti, damage to common contents such as barbeques and furniture, even malicious destruction of property like security gates or gardens happens regularly, hence the proliferation of security cameras.
Vandalism happens for all sorts of reasons, from people outside the scheme making the most of an opportunity to "revenge" for some perceived slight or body corporate charge.
It can also be used as a tool to intimidate or inconvenience a lot owner as much as the body corporate itself, and the perpetrators and victims can be anyone from a tenant, lot owner, Committee member or even an Onsite Manager.
4. Physical violence – sometimes sharing spaces does not go smoothly and a conflict between two residents can erupt into physical violence.
Violent confrontations between Onsite Managers and residents are not unheard of, mostly because it's the Manager's job to police the bylaws. It can be tempting to let these matters go, especially if our own behaviour hasn't exactly been above reproach, however physical violence should never be tolerated.
5. Embezzlement – the disappearance of some, or all, of body corporate funds is rare but does happen. This can be as simple as cleaning out the petty cash every chance you get up to an including doing a midnight bunk with the contents of the Sinking Fund.
The use of professional body corporate management will significantly reduce the likelihood of having funds embezzled though I have read of one case where the manager did it. I'm talking about the deliberate theft of funds here, which is different from a conflict regarding a charge, which happens quite often and is rarely sinister.
The most common form of real estate embezzlement is theft of rental funds by Letting Agents, which is by no means limited to body corporates.
6. Slander and Libel – talking trash about another person, particularly one we're in conflict with, may seem like a good idea but could very well be a crime. We're not allowed to say things that might impact on the reputation of another person, no matter how much we disagree with them or think they're talking out their ass.
We're especially not allowed to say these things in writing. Which is a shame since much of what happens in body corporates is helpfully recorded in the minutes and distributed to lot owners. Consequently cases for slander and libel proliferate.
7. Kickbacks and padded invoices – having works done in a body corporate is usually more expensive than comparable works on a house for legitimate reasons such as complexity and size of the buildings and more rigid processes.
Sometimes though it's more expensive because the cost has been padded significantly. That can be because the workman involved is simply making a killing, which is why multiple quotes are required, or to enable paying of a "kickback" to a lot owner, committee member or manager who ensures the approval and payment of the invoice.
Kickbacks and padding may also happen when it comes to appointing contractors for the body corporate.
Coercion in body corporates
The definition of coercion is the act or practice of getting someone to do something by using force or threats.
The following are forms of coercion that rear their heads in body corporates often:
8. Vexatious complaints – A vexatious complaint is one intended to cause problems rather than address a specific issue. The complainant is using the law as a weapon to cause distress or inconvenience rather than seeking conciliation. This sort of behaviour is so common that it has its own definition in section 270 (1) (c) of the BCCM Act 1997.
Vexatious complaints are toxic and a waste of time and resources of both the combined lot owners and the complainant.
And it's not just lot owners who do this either. Body corporate managers and Committees may be just as likely to undertake litigation as a way of shutting someone up, rather than taking a longer route that involves listening.
9. Misleading or false information – body corporate Committees are volunteers who meet regularly and rely on "briefings" to make decisions. If the information they're presented is incorrect then there's a good chance a wrong direction will be chosen.
The validity of information disseminated is very important. For the devious and dishonest among us that presents an opportunity to manipulate the situation.
Ironically though passing misleading or false information cases rarely start out as someone being blatantly dishonest, but evolve as the circumstances do. Feelings run high, the desire to "win" at all costs becomes paramount and hey presto, look at my supporting documentation.
10. Intimidation – the most common form of intimidation is verbal abuse. The most common form of intimidation in body corporates usually comes from the Committee or the Onsite Manager who use their status to threaten other lot owners to comply with instructions or bylaws.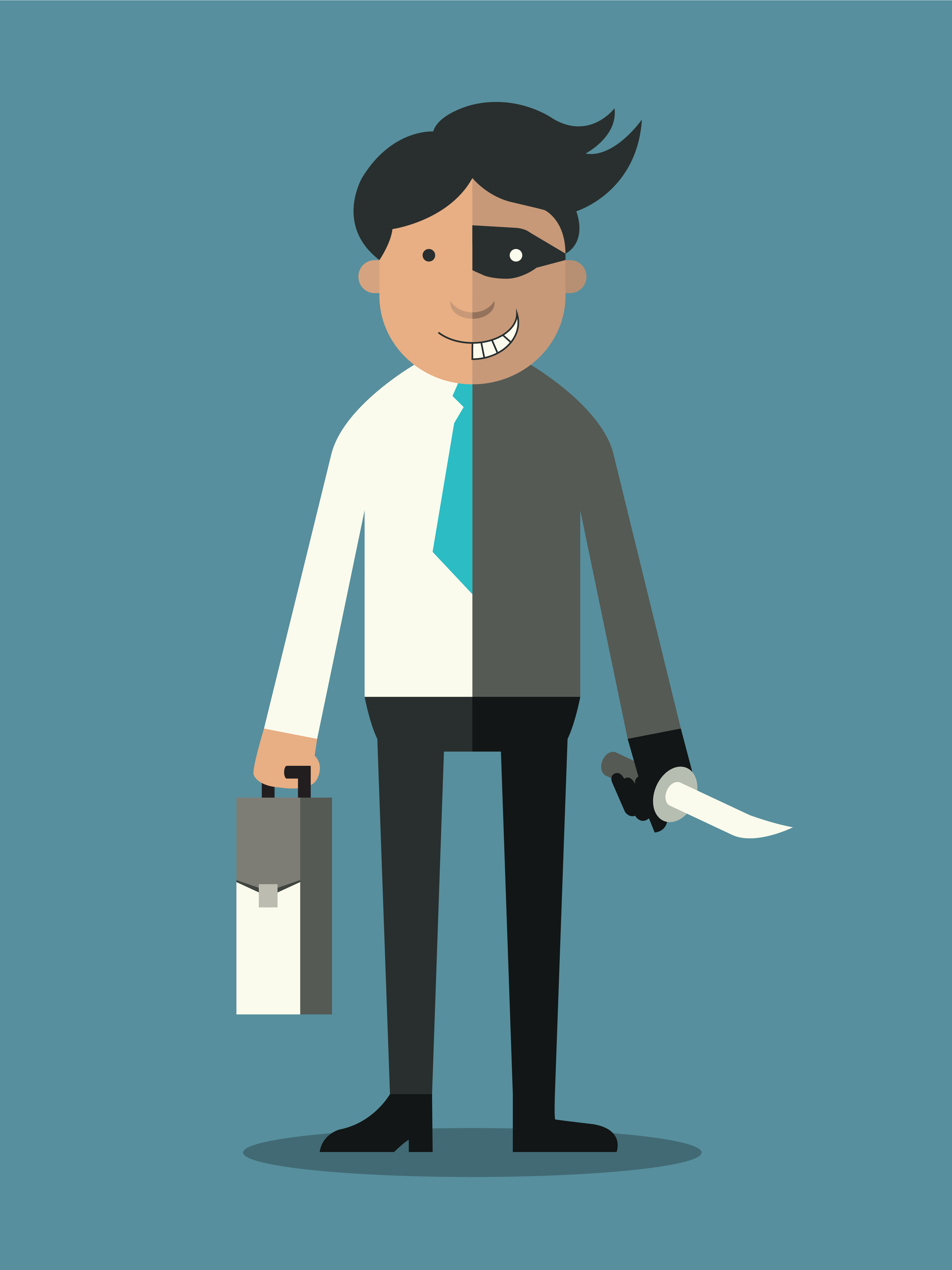 Intimidation, rather than it's more insidious little brother bullying (discussed below), is intended to get you to do, or stop doing, something. It's using aggression, like being yelled at and called names, or threats, like promises to see you evicted, to force you to comply with the aggressors' wishes.
Aggression should not be confused with assertiveness. Someone asking you to do something, then calmly setting out the reasons why, is not intimidation. It's not intimidation to disagree either.
Intimidation is an attempt to force the issue by being bigger, louder, more connected or more obnoxious than the other party.
Bad behaviour in body corporates
Anywhere there are groups of people there is eventually going to be someone behaving badly. Ok, even I admit that was horribly cynical, but sadly fairly realistic as well.
11. Arrogance – or haughtiness, is acting disdainful and superior toward others. It breeds high-handedness and contempt and eventually a disregard for others opinions and in some cases their rights.
Body corporate managers are especially vulnerable to bouts of arrogance, since they are usually the people who know and understand the most about what is going on. Committees are also vulnerable, as are Building Managers and even search agents like myself.
Approaching any situation with disdain and superiority is going to have the effect of, at worst, actually causing conflict, or at best curtailing communication. Basically you're scaring people off with your attitude, whether you're doing it intentionally or not.
12. Racism, Sexism and other forms of bigotry – Racism and sexism are systemic problems and both are alive and well in body corporates.
Committees tend to be predominantly white, notwithstanding that some buildings are very multicultural. The Chairperson tends to be predominantly male, although I should also acknowledge that Committee members also tend to be predominantly older.
Many body corporate managers are women and they face ridicule, arguments and harassment that their male counterparts do not.
A person cannot be a racist; a system is racist, a person is bigoted. And lots of people are. Applications by some people may be held to higher standards than others, bylaw infringements are jumped on quicker and more robustly, correspondence is ignored and nominations overlooked.
Bigotry is arrogance taken to extremes. It's the belief that you are actually superior to others and there's just no place for that belief in an inclusive environment.
13. Bullying – a more subtle form of intimidation bullying is usually long term and can take many, many forms. When I lived in an apartment building I disagreed with a neighbour who chose to get retribution by terrorising my eight-year old any chance he could get.
In another place I lived I disagreed with the Onsite Manager who then made it his mission to stare in my windows for long periods of time every time he knew I was home.
Other forms of bullying may include consistent, persistent loud noise, name calling, terrorising pets or family members, spreading rumours, consistently parking in an inconsiderate manner or deliberately excluding a particular person from a group.
Pretty much any form of nastiness you can think of may well be used as a weapon to bully another person, usually with no other purpose than to cause pain and annoyance.
14. Inconsiderateness – whilst the other things I've discussed here are damaging to the community inconsiderateness is just plain annoying. When you own and / or live in a body corporate you are sharing an investment and space. Considerateness is the glue that makes that possible.
So, yes, you are well within your rights to sit on your balcony at midnight and have a couple of drinks with friends, but it is also going to really annoy your neighbours. Would it kill you to consider them?
Or, yes, you're on the Committee, and you think the place needs refurbishment and you have the votes to make it happen. What's wrong with considering the pensioner who might find it difficult to raise funds? How could we structure this a little differently to help them out?
And if someone comes to you and says, "excuse me, I think you're being inconsiderate", maybe shrugging and saying "OK, I'll see what I can do" is a great way to respond.
The benefit of the doubt
Whenever something happens in a body corporate that seems unusual the cries of "OMG, corruption" echo around the scheme.
The thing is, if someone disagrees with you that is not corruption. Neither is the majority wanting to do something you don't.
If someone makes a mistake, even a big one, that is not corruption either.
And if a Committee member's best friend just happens to land a lucrative body corporate contract that doesn't preclude said friend from being the best person for the job, or the cheapest for that matter. Equally it does look a little hinky so maybe some questions about the appointment are fair and not a big deal.
Before you go looking for conspiracies of corruption maybe it's worth giving your neighbours and contractors the benefit of the doubt.
But, if things are bad, speak up. You don't have to put up with it.
Just remember, one person's, or even a groups bad behaviour, doesn't tacitly give you permission to behave badly as well.
Do you have any stories of corruption, coercion and bad behaviour in your body corporate? Leave a comment and let me know.