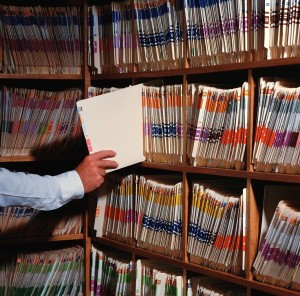 Under the various states legislation strata schemes are required to keep extensive records of their expenditure and decision making. However, just because body corporate records are kept doesn't mean anyone can access them.
In fact body corporate records are private information. You wouldn't ask to view your neighbours financial records just because you're interested and the same applies to body corporates.
A body corporate is just a building.  It could be a home, a shop or a workplace, but is still someone's, or more accurately a group of people's, property and, notwithstanding that the requirement for extensive records is very onerous, there is no requirement to make those records available to the general public.
Why have body corporate records at all?
So if we can't look at the body corporate records why are they there?
Almost all body corporate legislation is aimed at protecting the rights of the individual lot owners. That includes making things as fair and equitable for everyone as possible, as well as placing controls and accountability around what decisions can be made.
One of the ways that is achieved is through the use of body corporate records.
All dealings with regard to body corporate matters should be conducted in writing, from correspondence, through reports, agendas and minutes of meeting and any reports and documents.
The various written documentation forms the body corporate records and is available to be reviewed as required by interested parties.
Who can review body corporate records?
Section 205 of the Queensland BCCM Act 1997 allows that interested parties may inspect the records of the body corporate. Other states have similar legislation allowing limited rights to view.
Interested parties will include:
Committee members – as they're running the body corporate the committee need to have access to the body corporate records at any time. Committee members may view the records free of charge
All Lot Owners – just like the common facilities are for the use of all lot owners, so too are the body corporate records (there is a fee payable to access the records)
Purchasers  – it's acknowledged that buying into a body corporate is risky. To offset that risk any potential purchaser may view the body corporate records, again after paying a fee
Any Other Interested Party -an "interested party" is defined as someone who can prove a proper interest and other than those mentioned above may include a Mortgagee or Insurer
Appointing An Agent
If a party is permitted to view the body corporate records under section 205 they also have the right to appoint an agent to view the records on their behalf.
That's what I do: I act as an agent for an interested party, usually lot owners or purchasers, or those acting on their behalf, such as solicitors or real estate agents.
An appointment of an agent must be in writing and the appointment is for a single expiring purpose; inspection of the records.
Not All Documents Are Private
Some records of a body corporate are, by their very nature, public records. They include:
Survey plans, Building Unit Plans and Group Title Plans

The Community Management Statement

Adjudicators Orders
QCAT and other court decisions
Any of these documents can be viewed by any party at any time.
Conclusion
Well kept body corporate records are a good thing; they add value to the body corporate, help keep dishonesty and disputes under control and attract buyers. They are a part of the overall value of a body corporate as much as the external appearance and general repair of the building.