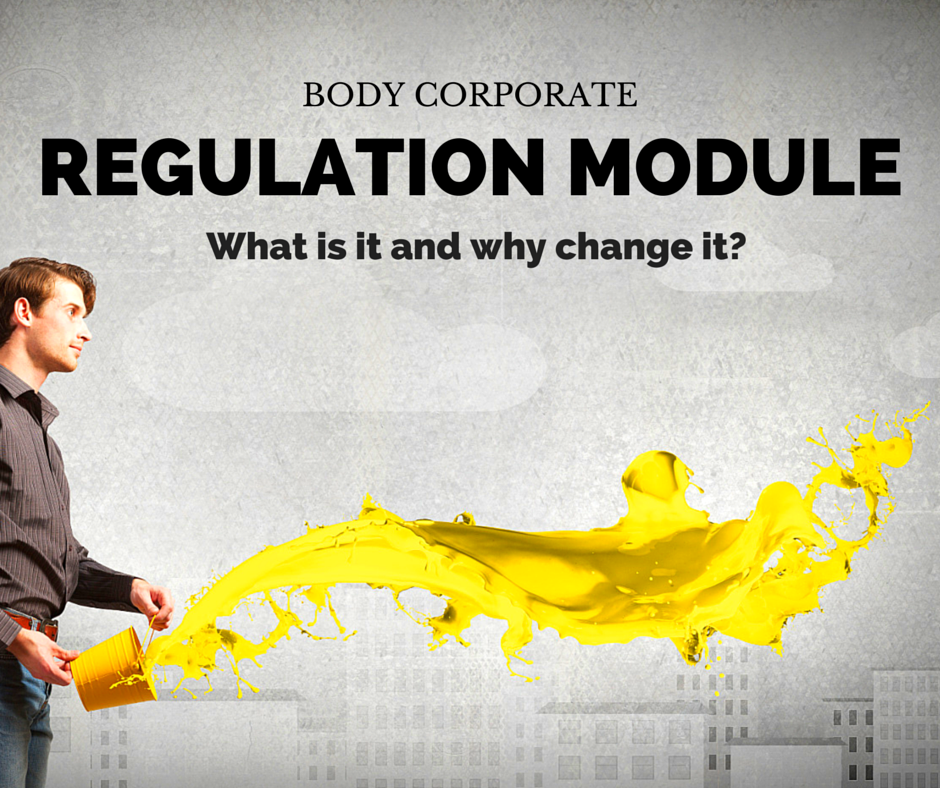 Body corporate regulation modules were created under the BCCM Act 1997 to define how a building is managed.
There are five body corporate regulation modules at present: standard, accommodation, commercial, small schemes and two lot.
This article is about what regulation modules are and why you should be wary if your body corporate wants to change module.
Why different modules?
The BCCM Act 1997 has tried to create a framework within which all types of schemes can operate, from the very big to the very small, the residential to hotels and industrial complexes, all with different needs.
The Act itself creates the broader rules under which all schemes must operate.
Each type of scheme is then subject to further rules depending on what regulation module it's registered under.
You may be thinking, how complicated, why bother? I know I used to.
But there is a reason for it, and it's all about tailoring management to meet the needs of the scheme and it's owners. The Office of the Commissioner Body Corporates puts it this way:
| | |
| --- | --- |
| Standard | Highly regulated, suitable for predominantly resident owners |
| Accommodation | Less regulated, suitable for predominately investment owners who let their lots |
| Commercial | Some regulation, suitable for business premises |
| Small Schemes | Little regulation, available to schemes of six lots or less |
| Two-lot Schemes | Little regulation, available to schemes of two lots |
The main differences are centred around the use of the scheme.
Duplexes need very little in the way of regulation, more a framework for when things go wrong. Small schemes are similar but with a little more regulation because, as we all know, the more people involved the more complicated it gets.
Standard module schemes are the most highly regulated because, it's supposed, these are the people who own and live in the schemes. It's to everyone's benefit to make a level playing field.
Accommodation module schemes are intended for investors who are more commercially minded and therefore more capable of taking care of their own rights. Commercial module takes that concept even further.
Different rules apply in different circumstances.
So for instance, under the standard module the committee spending limit is by default $200 per lot (although it may be varied) however in a commercial module has no committee spending limit at all. They could refurbish the entire building and it's left to owners to recoup their own loses should difficulties arise.
How it works in practise
The idea here, though you will be forgiven for not noticing, is to simply.
Each scheme is it's own little kingdom and the owners can do whatever they choose within the guidelines of the legislation. The different regulation modules recognise that and attempt to add or remove restrictions to meet each schemes circumstances.
Which would be great if every building was registered under the module that best suits them, but that is not the case.
There are many buildings in Queensland, particularly on the Gold Coast, which are registered under Accommodation module when the owners are predominantly resident.
Or predominantly investor buildings with standard module registration.
And a large number of duplexes are registered under a standard module, creating far more restrictions and responsibilities than they ever need or can fulfil.
The problem arise because the incorrect module was chosen at registration, or, the scheme voted to change regulation module.
Changing regulation modules
Any scheme that meets the criteria for the module they're changing to, can enact that change to the regulation module by passing a special resolution at general meeting.
A special resolution is passed if:
at least two-thirds of the votes cast are in favour of the motion

the number of votes against the motion is not more than 25% of the total number of lots

the total contribution schedule lot entitlements of the votes against the motion is not more than 25% of the total contribution schedule lot entitlements for all lots in the scheme.
The meeting must follow the rules for notice and a Form 19 must be included (in most cases, refer to the Form 19 for details).
Once the resolution is passed the scheme has three months to prepare and register a new Community Management Statement to enact the change.
Why change regulation module?
There are benefits for smaller schemes to change their module from standard to small schemes or two lot. It will reduce the amount of "hoops" to jump through, a benefit to all owners.
Changing from standard module to accommodation module, or accommodation to standard, is more problematic, and that relates to the key difference between those two regulation modules.
In standard module schemes a Caretaking and Letting Agreement can be entered into for a maximum of ten years.
In an accommodation module scheme Management Rights may be for a maximum of 25 years.
The larger term is worth more. A lot more.
Management Rights & Regulation Modules
Queensland is the only state that allows 25 year terms for Caretakers. Consequently we have a thriving Management Rights industry, where these businesses are bought and sold on the open market.
When you're buying  Management Rights the term of the contract will affect whether or not you will be able to obtain finance.
Banks won't lend on standard module contracts with less than seven years to run. For accommodation module they won't lend on less than 12 years to run.
Because the module makes a difference to the term of the Management Rights contract the regulation module a building is registered under is often determined not by the make up and needs of the lot owners but by the profit margin of the developer or the Caretaker.
Off The Plan Management Rights
For the developer, or original owner, the Management Rights are a tasty "extra" on the sale of the lots.
All that's required to create the rights is to prepare the contracts and pass a resolution at general meeting, which as the owner of all the lots, they can easily accomplish.
Consequently, there's a lot of profit in that sale of Management Rights.
And again, a contract worth 25 years is worth more than one worth ten years. Consequently new buildings are registered as accommodation module, even though they may actually have a high percentage of owner occupier.
Existing Management Rights
The same potential exists for existing Management Rights, initially offered under a standard module.
If the Manager can purchase the rights, pass a motion to change regulation module to accommodation, and then enter into another agreement, now for 25 years, then the profit potential is enormous.
Consequently it's not uncommon to see motions on the agenda to change regulation module of a standard module scheme.
The Implications for Lot Owners
The implications for lot owners are summarised well in a report by the Office of Fair Trading:
This practice has become an issue for many lot owners who are of the view that long term contracts for services may be sub-standard, overpriced, or inappropriate for many schemes. There are also claims that there is an increasing corporatisation of the management rights sector and that this, together with rapid turn-over in ownership and a significant increase in the value of management rights contracts in the past decade, has led to predatory and unconscionable conduct.
Of course then there's the dissenting view:
Other stakeholders disagree with these claims and are of the view that management rights arrangements in Queensland are generally working well and that lot owners in schemes under management rights arrangements are actually better off than those in self-managed schemes.
In my opinion both views are valid, and just like most things body corporate, it will depend on the personal circumstances of the particular scheme which group you fall into.
It's ridiculous to see a 20 lot scheme in a suburban neighbourhood registered under accommodation module and saddled with a 25 year contract. That's a big commitment, and the scheme will completely miss the benefit from the more onerous playing field of a standard module, which they're likely to need.
Equally a very large building will benefit hugely from a professional, corporate Building Manager, and in that case a 25 year contract is as much protection for the body corporate as the Caretaker.
Regulation module should match the majority wishes
I believe the body corporate should do exactly what reflects the wishes of the majority.
If that means changing the regulation module and extending the agreement, then so be it.
Or vice versa; changing to a standard module and limiting the term of the agreements.
What concerns me is how many people are voting on these motions without really understanding the consequences of that decision, which is the reason for this article!
If your scheme puts forward a motion to change regulation module be wary. Will it really be beneficial to the lot owners as a whole, or is it really prompted by profit?
I'd love to know if you've experienced a change of regulation module and how that worked out for your scheme. Leave a comment and let us know.