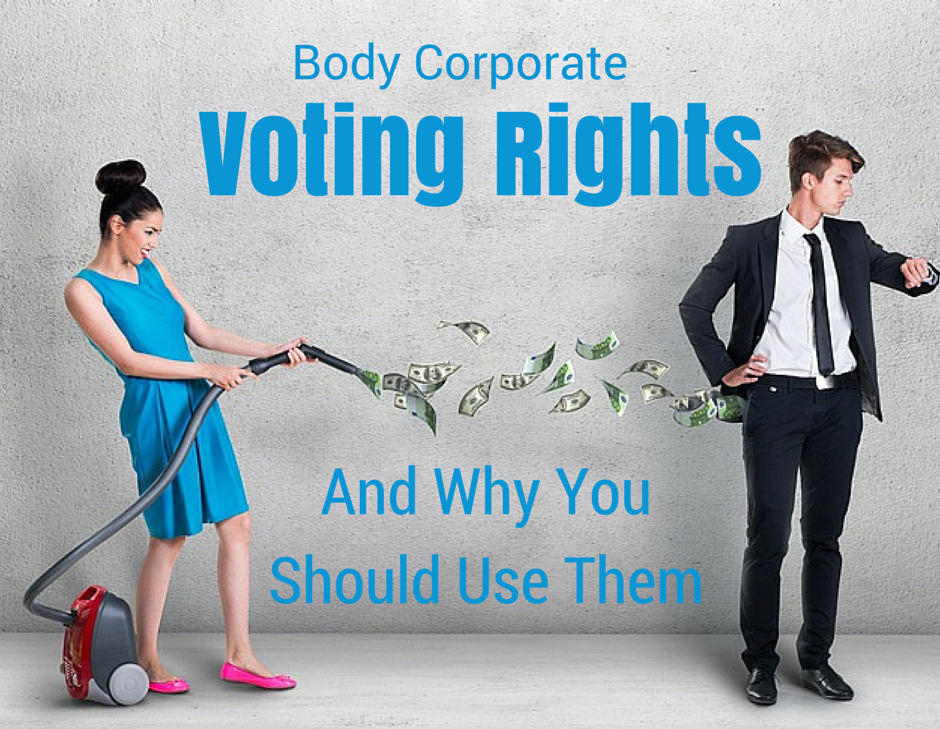 Last week I was asked for a source of the Queensland legislation that says 100% of owners need to give permission before a scheme can be terminated.
I don't actually like the "show me the legislation" question, but in this case it's contained within the BCCM Act itself (from section 77 if you're interested) and was easy to do.
If you do read it though you'll note that it doesn't actually say 100% of owners need to agree for the sale to proceed.
It says the body corporate must pass a resolution without dissent.
Now you may be thinking, duh, same thing, but you'd be wrong. Yes everyone who votes must vote yes, but there isn't any requirement for everyone to vote.
In fact I did a search there other day where a building with 140 lots passed a resolution without dissent with only 15 affirmative votes.
15 out of 140 potential votes! That's not even enough for a quorum.
Some of you might be scratching your head wondering how a vote could pass when the meeting doesn't even have a quorum, and still others might be thinking "what's a quorum"?
Which all leads me to believe there might be a bit of confusion about how motions are passed within body corporates. Let's if I can shed some light.
Body Corporate Voting Rights
One lot equals one vote.
It doesn't matter how many owners there are for a lot, that lot still only has one vote. If two votes for one lot are received they will both be invalidated. That may sound unfair but how do you decide which is valid? You can't, so they both go.
Those are your body corporate voting rights.
However, it's unfair for any one owner not to pay their way, so if you have overdue levies you will be stripped of all your voting rights except for resolutions without dissent.
At least once every year lot owners are called to vote on certain matters. Annual General Meetings include statutory motions that every scheme must consider plus anything else that any of the owners, or the Committee, feel might be worth considering.
You also elect the Committee.
Occasionally urgent matters crop up and and an EGM might be held to get lot owner approval.
Those are your voting rights. It's seems simple.
Yeah, not so much. There's so many other factors to consider.
Getting the Preliminaries Right
General meetings have whole rituals that must be completed before they even get to the meeting. I've written more about them here.
It's important to note that if the preliminaries are not followed correctly then the entire meeting and any motions passed within can be invalidated.
Meeting Quorums
Apart from notice the other requirement for a general (and Committee) meetings to proceed is a quorum, or minimum number of voters present.
A quorum for a meeting is 25% of voters.
If you've submitted a voting paper you're considered "present", however, at least two voters actually physically need to show up for the meeting to be able to go ahead.
If there isn't a quorum within 30 minutes of opening the meeting then the meeting is adjourned, which simply means called off.
It will be reconvened exactly seven days later.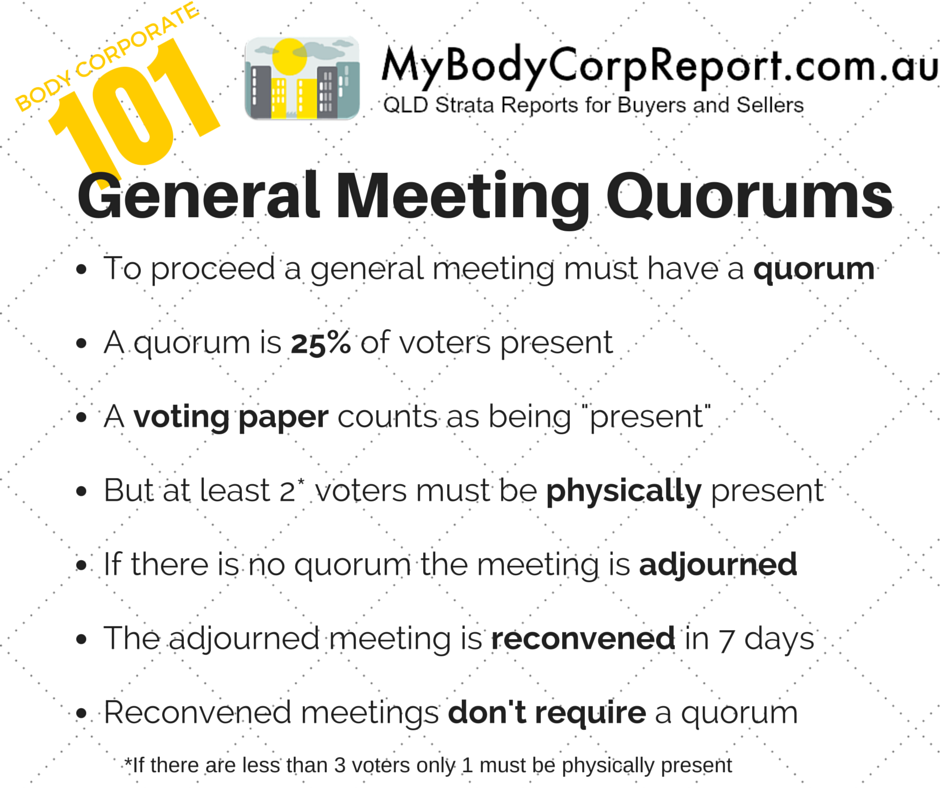 So if the meeting was on Monday at 9.00am and was adjourned, then it is reconvened the following Monday at 9.00am.
The key point here is reconvened general meetings don't require a quorum. No one can show up for the reconvened meeting, no further votes need be received, and the meeting will still proceed.
This is a very important point, which I'll discuss in more detail below.
For the purposes of this discussion I'll assume that proper notice is given and the motions themselves comply with legislation and won't be ruled out of order.
How a Motion Passes Will Depend on The Type of Resolution
OK, so we're all good, we've had our notice, got a quorum and we're ready to count these votes.
How you count them will depend on what sort of motion they are. There are three main types of resolution;
Ordinary resolution
Special resolution
Resolution without dissent
Ordinary Resolution
When counting votes for an ordinary resolution then it's one vote per lot and a simple majority passes the motion.
For instance, seven votes are cast, four are yes, three are no, that motion is passed.
If the votes are tied the motion failed.
But wait, there's more, a lot owner can ask for a poll vote to be taken for an ordinary resolution. That means the total contribution lot entitlements of those voting yes and those voting no are compared. A simple majority passes.
What that means is if my contribution lot entitlement is 1 and yours is 2, your vote is twice as valuable as mine.
Types of motions passed by ordinary resolution
Ordinary resolutions are your bread and butter of body corporate decisions. Things like issuing the yearly levies, obtaining reports, appointing body corporate managers or auditors and even spending substantial amounts of money can be decided by ordinary resolution.
Special Resolutions
The next level up from ordinary resolutions is a special resolution.
A special resolution is passed if:
Yes votes account for 2/3rds of those votes cast (excluding abstains)
Those who voted no weren't more than 25% of lots
Those who voted no weren't more than 25% of the contribution lot entitlements
Each test must be answered yes for the vote to pass.
So for instance…if 100 votes are cast out of 150 lots with a total contribution entitlement aggregate of 300 (2 per lot) and 60 voted yes, 30 voted no with 10 abstaining, then:
2/3rds of the votes cast is 60 ((60+30) x 2 ÷ 3=60) (ignore those who abstained)); that's a pass
25% of lots is 37.5 with only 30 voting no; that's also a pass
The total contribution lot entitlement of those who voted no is 60, less than 75 which is 25% of the 300 aggregate; again this is a pass
In reality of course these votes are much more complex since contribution lot entitlements can be very unequal.
Types of motions passed by special resolution
More important issues are decided by special resolution including changes to by-laws, expenditure over $2,000 per lot or a motion to appoint a body corporate manager to act as the Committee.
Resolution without Dissent
A resolution without dissent is a motion where all the votes must be yes. If anyone votes no the motion is lost.
If you have overdue levies you can still vote on a resolution without dissent, which is a clear indicator of how important these motions are.
These are motions that are going to impact on the holdings of the joint lot owners, consequently every lot owner must be given an opportunity to have their say.
Types of motions passed by resolution without dissent
A resolution without dissent is required to do anything with the common property. Examples are granting an area as exclusive use, selling a portion of the common property or dissolving the body corporate altogether.
But … The Courts may overturn dissent
Simply voting no to a resolution without dissent is not always the end of the matter.
If you are the only one who objects, and your neighbours believe you're only did that to upset them, then they can apply to the court to have your vote disregarded.
In Boulevard North [2009] QBCCMCmr 21 (27 January 2009) it was noted
If satisfied a motion requiring a resolution without dissent was not passed because of opposition that in the circumstances is unreasonable, an adjudicator may make an order giving effect to the motion as proposed or a variation of the motion as proposed (schedule 5(10),Act).
And indeed the ability for the court to disregard an objector applies even to the decisions about termination of the scheme.
The problem with voting at general meeting

Remember we talked about quorums above?
That's the key problem with voting at general meetings. It is very common for body corporates not to achieve a quorum.
And, if a meeting is adjourned, when it's reconvened the requirement for a quorum is waived.
Referring to my example above, a building with 140 voters, has a quorum of  35, yet 15 votes are received. The meeting is adjourned and reconvened a week later and quorum requirements are waived. Those 15 votes are sufficient to carry a motion which is so important to the scheme, a resolution without dissent, that even the black sheep are entitled to vote.
It's crazy. A motion was passed that effectively sliced off a portion of the common property and allocated it to someone and the vast majority of owners just didn't care, or more likely didn't realise.
This is how small groups end up controlling body corporates.
If no one else can be bothered to vote those that do vote control what the body corporate does. And in most cases they're also the ones writing and submitting the resolutions that nobody then bothers to vote on, meaning they are literally writing the direction of the body corporate.
That's how you end up with sudden hikes in levies or even massive special levies; it wasn't out of the blue, you just weren't paying attention!
It is true that the legislation has clear boundaries on what body corporates can do but that assumes that the scheme is acting within those boundaries, which is not always the case.
There is no one watching, no policing. You're on your own here guys.
So pay attention. And then vote!