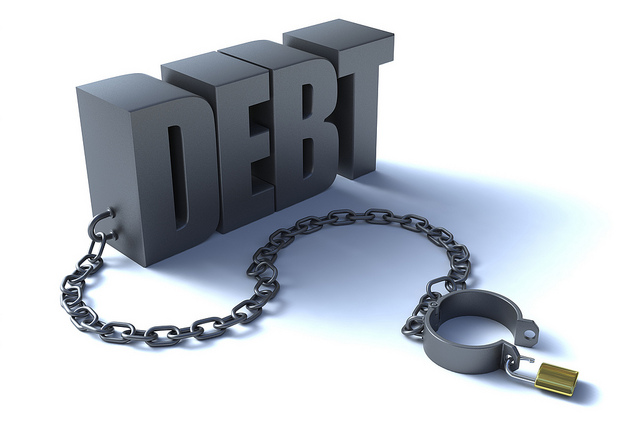 In any group of people required to contribute financially on a regular basis there is inevitably going to be someone who defaults. In body corporate lexicon a levy issue that has been defaulted on, ie an invoice that has not been paid by the due date, is considered "Levies in Arrears".
It's a good idea to start at the beginning and discuss the process of levy issues, levy payments and how levies in arrears are treated.
How Levies Are Issued
Every year after the end of financial year a budget is created and the levies for the next financial year are proposed. The lot owners as a whole vote on whether or not to issue those levies at the Annual General Meeting (AGM).
I'll assume that the levies as proposed are adopted because what happens when they don't is a whole other story.
Levies are now set for the year.
Prior to each period coming due a levy notice will be created for each lot owner and despatched. The levy notice includes:
Administrative fund levy
Sinking fund levy
Any other levy amounts
Due Date
Details of any discounts for prompt payment
Any other already outstanding levy amounts
Most owners pay their levies on the due date.
Some body corporates allow up to seven (7) days after the due date to ensure all electronic payments have been processed before declaring the due date expired. For other body corporates, the due date is the due date. Once the due date expires any discount offered also expires.
Levy payments still due are now "levies in arrears"
When Does The Collection Process Start?
Seven days overdue is not enough to start the collection policy, and in some cases even if you've paid late you can still apply to the committee to have your discount reinstated.
So when does collection happen?
Largely it will depend on the body corporate and to a certain extent the strata manager appointed. As with all businesses some are more efficient than others.
The most efficient managers will have a process for collection that lot owners have voted on at AGM which clearly states what will happen when. Others do not and the collection process can be fairly hit or miss.
Another factor that impacts is the amount of levies payable. For instance if your quarterly levies are less than $500 then regardless of whether you pay or not the collection process may not be started until the amount in arrears is over the arbitrary $500 mark. The cost up to that point is larger than the expected pay off.
As a general rule of thumb if the levies are overdue more than 30 days the collection process may start.
Collection of Levies in Arrears
Again processes change from body corporate to body corporate but the general process, assuming non-payment at any stage, is:
An Overdue Letter will be sent to the lot owner requesting immediate payment or contact.
If the body corporate can charge interest (by-laws and general meeting motions are required) amounts will begin to accrue.
 A second Overdue Letter will be sent.
The file may be referred to a Debt Collector who will continue with their own internal processes.
A Letter of Demand is issued by a solicitor. Typically 14 days is given prior to legal action being instigated.
An application is made in small claims court to obtain a judgement.
Once a judgement is obtained steps are taken to enforce the judgement.
A lien may be registered over the property if amounts remain unpaid.
Although the body corporate could enforce sale of a property for payment of levies they rarely do. Usually if a lot owner isn't paying levies they're also not paying the mortgage. Most body corporates wait for the Mortgagee to take possession of a lot and then chase them for payment of levies.
Collection Costs
The above process has many ongoing costs, costs that will initially be covered by the body corporate. But, the body corporate has no facility within their budget to meet these costs. And indeed why should the collective lot owners pay for the delinquency of one owner.
Consequently all costs incurred to collect levies in arrears are on-charged to the particular lot owners.
What those costs will be is individual to each lot's particular circumstances. Some of the costs incurred may be:
Interest
Collection letters – although issued by the strata manager each letter attracts an additional cost from $20 – $50
Solicitors fees for preparation of letters of demand, court documents and if the application is defended fees for preparation and attendance at court
Skip tracing fees to find locations
Outlays such as phone calls, emails etc
Disputing Costs
Levies are cut and dried.
All the lot owners have the opportunity to vote on those levies at general meeting, and once passed there is no way out. All the lot owners must pay the levies as set. The levies can be rescinded or changed, however only by another motion at general meeting or an Adjudicator / Court order invalidating the motion passing the levies.
That includes all levy amounts including regular and special levies and any other levies that might attach to the lot.
Collection costs are another matter.
A recent case, Westpac Banking Corporation vs Body Corporate The Wave CTS  found that reasonable collection costs are body corporate debts and must be paid.
A definition of "reasonable" is still forthcoming. These amounts can accumulate quickly and will differ widely depending on what firms the body corporate uses.
It is possible to argue costs charged and there are a number of Adjudicators Orders on the matter. Arguing costs charged are unreasonable may be a viable strategy to get some remitted but be prepared to have the majority found due and payable.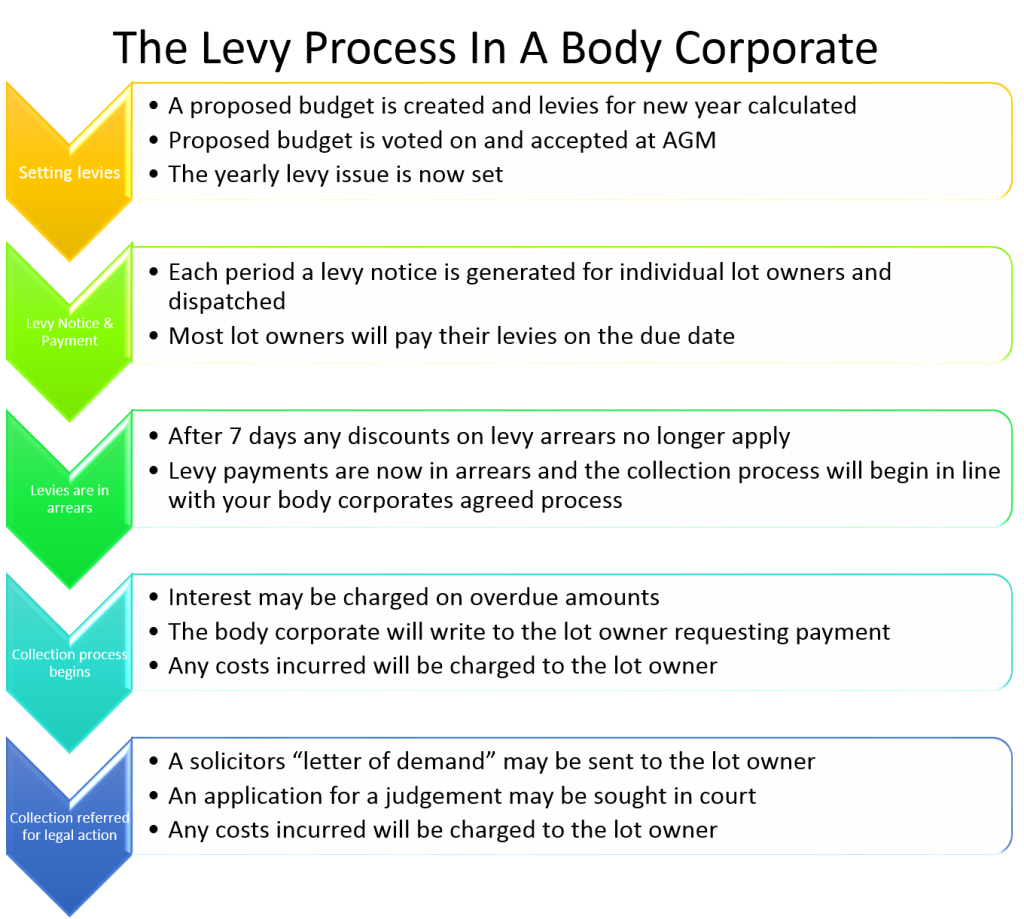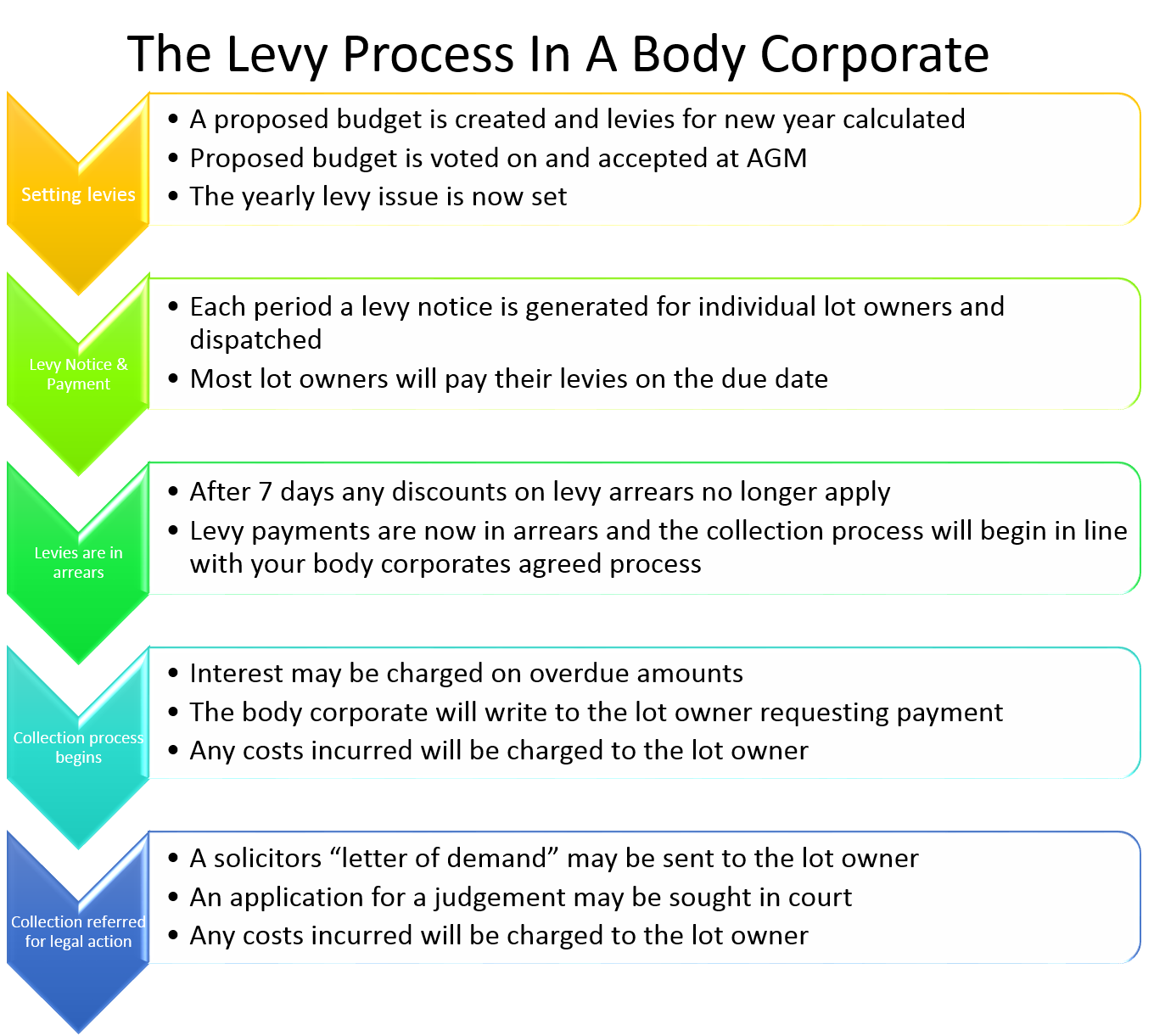 The Implications of Levies in Arrears
Levies in arrears are a problem for all body corporates. They affect:
Cash flow – budgets are very precise and all funds are required
Outlay of collection costs – initially these costs are paid by the body corporate further impacting on budgets
State of harmony – no one likes carrying the load for someone else
Any one of these areas can spiral out of control.
Levies in arrears can get so large they impact the body corporates ability to pay their bills as they fall due
Collection costs can spiral out of control. For instance the recent judgement in Westpac Banking Corporation vs Body Corporate for The Wave CTS was in relation to over $200,000 in arrears, of which only a small portion was actually levies
If your levies are in arrears you have no say in how the body corporate is run. You are effectively a "second class citizen". At least until you clear the arrears.
How To Avoid Levies In Arrears
When you buy a lot in a body corporate is Queensland a section 206 disclosure statement must mandatorily be included at the front of the contract. The idea here is before you even enter into the contract you're made aware of what levies are currently payable.
Buyers need to take this information on board. Can you actually afford to pay that amount? On a regular basis?
If you have doubts maybe now is a good time to walk away.
Assuming you take the plunge and become a lot owner in a body corporate the best way to deal with levies is:
Pay them when they fall due.
If for any reason you haven't paid your levies on time, pay them as soon as possible.
If for any reason you haven't paid your levies on time, and you're not sure when you will have the funds to pay them, contact your body corporate and make a payment arrangement.
If you have a payment arrangement in place, make the payments as they fall due.
There is no wiggle room in levies. They're issued. They're due. They need to be paid. The various costs and interest added to delinquent accounts will accumulate very quickly, and it's only usually a short amount of time before the next instalment is due.
Your best bet will always be to stay on top of it.
photo credit: StockMonkeys.com via photopin cc