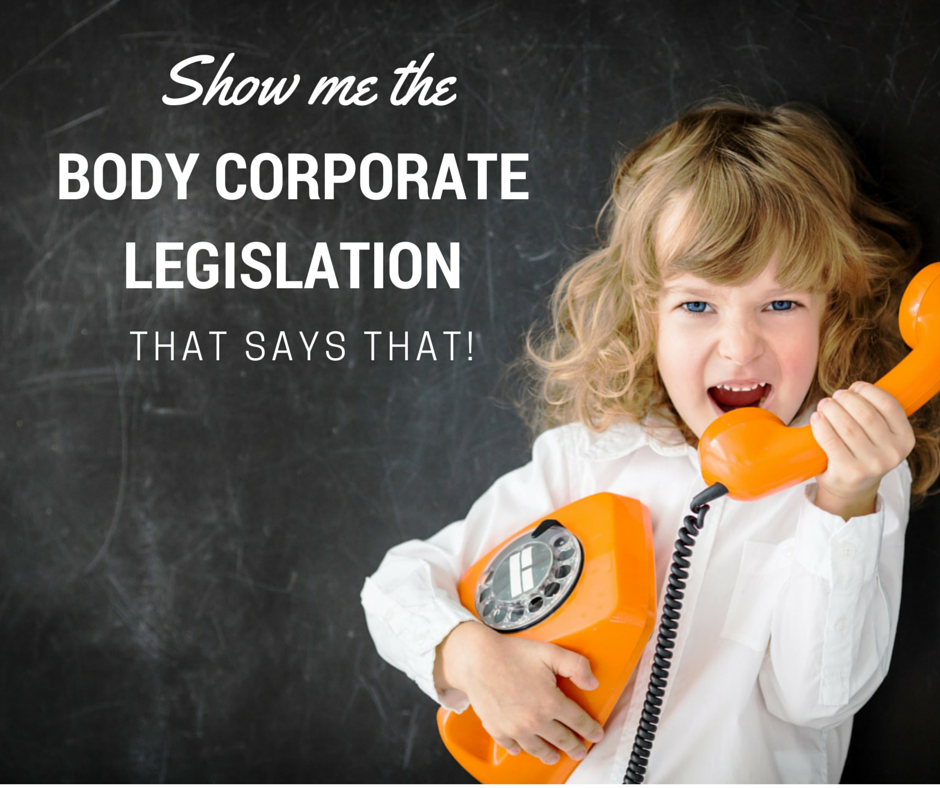 People ask me questions, all the time, which I answer, not all the time but quite often.
Please don't think I think I have all the answers, because really, really don't. But I can, and do, have an insight to offer which I'm happy to share.
One the things I find the most frustrating though is when people read what I've written to them and come back to me with "mmhmm, great, thanks …um, can you just show me the legislation that says that?" as if I can send them a brief little titbit they can wave around at their neighbours.
It's so frustrating, for a couple of reasons.
Firstly, it makes it clear that they're not really interested in understanding what I've said. It feels more like I'm acting as fuel for arguments than helping, which just so annoys me.
Secondly, in a lot of cases I can't cite the legislation.
Which is not to suggest I'm making stuff up. I'm a search agent. I am exquisitely aware that what I write will form the basis of some complex and costly decisions and that sticking to the provable facts is vital.
I can't cite legislation in some cases because it's just not that simple.
The many ways the "rules" evolve
Our laws and legislation are created by politicians. There's a whole infrastructure of professionals that help with that process but ultimately on a state and federal level it's the politicians who're driving these changes.
Which is why when governments change, so too does legislation, but I digress.
Legislation is only the top tier of the hierarchy of our rules. By its very nature it needs to be relatively non-specific to be able to be applied to the many different but similar scenarios that arise.
This broad legislation then needs to be interpreted and applied. That's done in a number of different ways including:
Regulations
Codes of practice
Accepted practices
Other legislations
Adjudicators Orders
Appeals of Adjudicators Orders
All these different aspects work together to become what is the applied rules regarding a subject, in this case Queensland body corporate legislation.
Regulations
Legislation is meant to be this big umbrella that controls the environment. Sometimes though, as in the case of Queensland body corporates, the legislation cannot be non-specific and still cover the maximum scenarios.
So each scheme is registered under a regulation module. That means every scheme must comply with the overriding BCCM legislation and the regulation module applying.
If there's anything you want to query about your body corporate you will need to know your regulation module because the rules differ for each one.
Codes of Practice
Codes of Practice are specific guidelines that are developed that must be adhered to. They usually relate to professional bodies, such as Body Corporate Managers, but can apply in any number of circumstances.
I think of Codes of Practice as sort of like house rules versus body corporate bylaws. House rules are binding and residents and owners will need to comply with them, but if it comes to a conflict, the bylaws are the overriding "rule".
Legislation including regulations must be complied with first, then Codes of Practice.
Accepted practice
I had a gentleman ask me how to define the boundaries in an apartment building. I replied that walls, ceilings and floors are measured from the centre of the wall, ceiling or floor, when they abut another lot or common property.
Your lot is this side of the centre and the other lot or common property the other side.
"Yes, but where in the legislation does it say that" was his reply.
Measuring from the middle of a shared wall or floor is an accepted practice through a number of industries. I learnt about it when I worked for a Cadastral Surveyor many years ago. I've also seen it discussed in Adjudicators Orders and court decisions.
I've no idea the source of this practice.
But that's not an issue. This is a common practice the court accepts unchallenged.
There are hundreds of these accepted practices, over all the various interrelated industries that are simply accepted as the way things are done. And it's usually because they are an equitable solutions that make a lot of sense.
It is possible to challenge an accepted practice, though it will likely be quite difficult.
Other legislations
Our lives are governed by all sorts of legislations from federal to state to council level. All these different legislations interlock and need to be considered together.
For instance, if you are in a body corporate and have a fence that requires repair, seeking repair of said fence will involve taking into consideration the provisions Neighbourhood Disputes (Dividing Fences and Trees) Act 2011.
And that act will need to be considered regardless of whether the issue is between a body corporate and a neighbour, a lot owner and the body corporate or two lot owners.
There are many legislations that will impact what happens in a strata scheme and complying with them is as important as complying with the body corporate legislation.
Adjudicators Orders
Court cases are about forcing a person or entity to do something, or stop doing something for that matter, because it's non-compliant, costly or whatever.
They're also about interpreting and refining our laws. Case law is an important part of our legal landscape. Decisions that are made by any court, including an Adjudicator, will form the basis of arguments made to decide future disputes.
When you're trying to decide if an action by a body corporate or lot owner is compliant with legislation Adjudicators Orders are actually far more useful than the legislation itself because they are its practical application.
For instance, body corporates may make any sort of bylaw they choose, with the codification that the bylaw regulates the use and enjoyment of the lots and is not oppressive or unreasonable.
But what does that mean exactly? And more importantly does it apply to your particular set of circumstances?
Adjudicators Orders deciding similar cases will be the best way to answer these questions.
Please note that some matters do not fall within the jurisdiction of the Commissioner Body Corporate and those matters will usually be directed to QCAT.
Queensland Adjudicators Orders may be found online here.
Appeals of Adjudicators Orders
Unfortunately Adjudicators Orders are not the end of the line. An Adjudicator may make an order on a matter which can then be appealed through the court system.
Less than 1% of Orders are overturned or altered on appeal.
It does happen though. For instance the Viridian decision was a recent appeal to QCAT.
In that case a lot owner wished to make changes to the exterior of his lot within an architecturally designed building. The Committee objected.
After examining the submissions the Adjudicator found that the changes would not substantially affect the exterior in a negative way and allowed them.
The QCAT decision found the Adjudicator was in error deciding the matter. The only test was whether or not the body corporate was acting reasonably in its objection and the merits or not of the proposed changes had no bearing.
Further the court held just because two parties disagree doesn't mean one party or other is acting unreasonably. The Committee acted reasonably and the Order was overturned.
Viridian is a landmark decision because it provides a "template" which the courts can now use to decide whether or not a body corporate is acting reasonably.
How this all affects lot owners
Body corporates are predominantly run by lay people.
Sure they have help from professionals, but those professionals come with differing levels of expertise and knowledge.
Which means there are a lot of schemes that are doing things that aren't compliant with legislation or case law.
If you have doubts about something by all means question it, because it could be that a line is getting crossed.
But be aware, it's not that simple to prove or disprove something. There are nuances to everything and in many cases there is unlikely to be a handy piece of legislation that you can just waive in someone's face thereby winning your argument.
And if you ask me a question and I send you an email with a bunch of links in it, those are links to Adjudicators Orders. I've answered your question with reference to them.
It's a good idea to have a read.
I've would like to write more case studies, but, much of what I see is private information that cannot be disclosed. Adjudicators Orders however are public information. This article is intended to make it clear the importance of these decisions.